Article Excerpt
With the end of shelter-in-place orders approaching, let's plan our post-quarantine adventures! From outdoor thrill-seeking, to nightlife with friends, to family getaways.
With plans of reopening parts of the state, we started thinking about the first things we'll want to do post-quarantine. This list includes some of the very best places to visit in Texas for families, couples, or friends on a night out. Check out why they made our top ten list, and visit the links provided to read all about them.
PubCrawler of Austin
A pub crawl is basically a big Dutch-style party bike that takes your group on a BYOB tour of downtown Austin. There are strategic stops along the way where the group steps off the bike and ventures to a bar or landmark. Everyone helps pedal along while blaring music from the aux cord. It's a very merry time, indeed.
But, your experience can be as mild or as reasonably rowdy as you'd like. Pub Crawls are fun for corporate events, date nights, and bachelorette parties alike. The prices are reasonable, too!
Check out routes and more info on how PubCrawler of Austin works.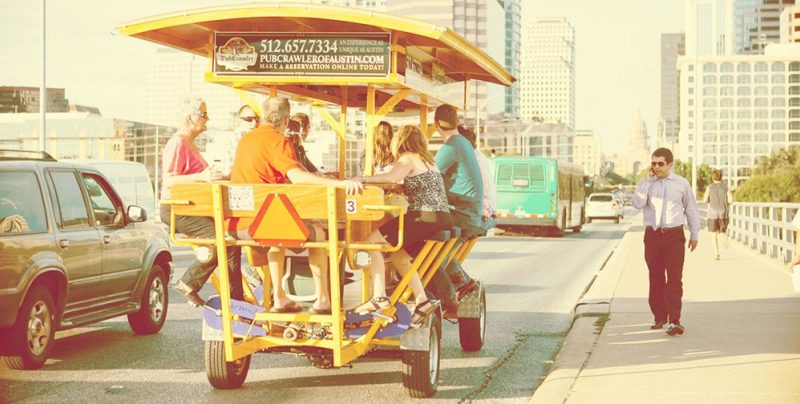 ---
Country Dancing in Luckenbach
Luckenbach, population: 3. But that's definitely not the case on Friday and Saturday nights. Luckenbach is famous for attracting huge names in country music. It's a place where you can forget the daily hustle and get back to your Texas roots. Creaky wooden benches, draft beer, and a pitch-black night sky between the 500-year-old oak branches reaching across the open Texas air. "Everybody's somebody in Luckenbach."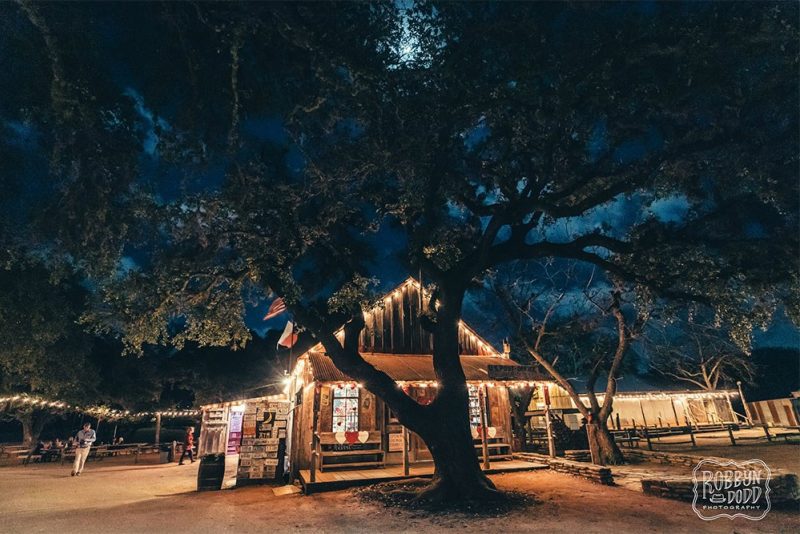 ---
TexMex & Margaritas on the Riverwalk
If there's one thing that every Texan has in common right now, it's our obsession with TexMex and margaritas. What better place to break the dry spell than on the San Antonio Riverwalk? If you haven't been in a few years, you may be surprised how many new shops and restaurants have popped up. The Rivercenter mall has seen some huge additions, including a Dave & Buster's, and the Alamo grounds are supposed to be going through a major overhaul, too.
See a full list of shops, bars, and restaurants on the riverwalk.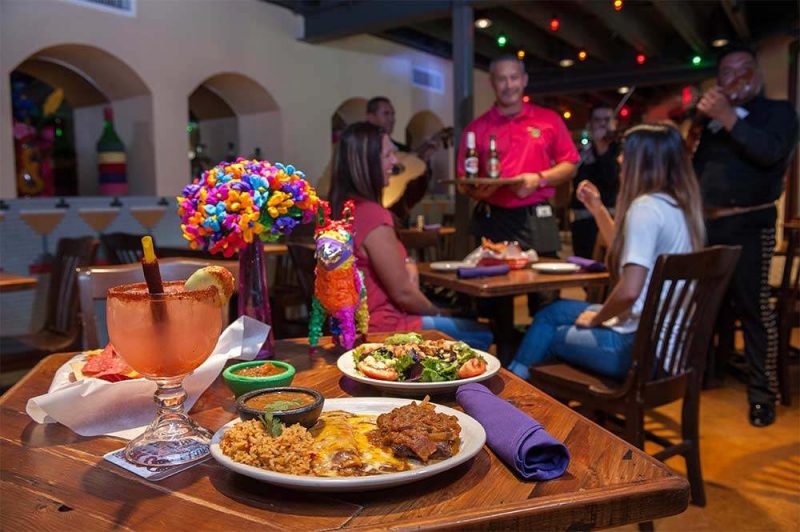 ---
Relax in Fredericksburg
Fredericksburg is a charming place to celebrate an anniversary, or take a little weekend family vacation. It's a small town about 15 miles from Luckenbach. Fredericksburg has art museums, breweries, and especially wineries. The city's travel website provides a little pre-built itinerary that will help you decide what you'll do during your outing. The little Hill Country town is home to more than 400 festivals and special events each year.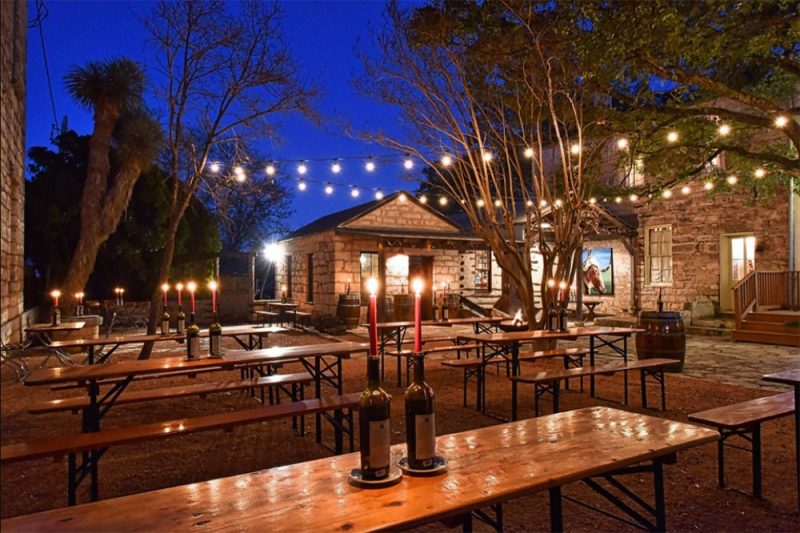 ---
Soak Up the Sun on Lake Granbury
Granbury totes an ever-growing wine scene that "restores your tranquility." The city beach pulls in families from all across the state with its spray park, volleyball courts, and jet ski rentals. There are no pets, glass, or alcohol allowed on the beach, and cleanliness is a top priority. The adventurous may want to try out some hydro flying - Iron-Man-like jets underneath your feet will "levitate" you above the water in a one-of-a-kind experience.
Check out Granbury's entertainment, shopping, tours, and more.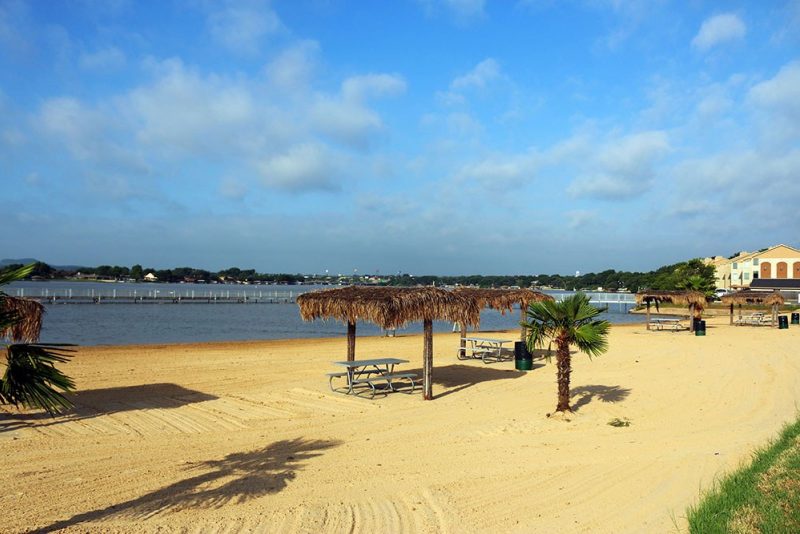 ---
Golf at the Omni Resort & Spa at Barton Creek
The Barton Creek golf courses have got to be among the most beautiful in Texas. The Omni Resort & Spa is recognized as one of the best golf resorts in the Southwest by GOLF Magazine. It's only a few minutes outside of central Austin, "blending the best of the capital city with the beauty of Texas Hill Country." The Omni resort is a luxurious getaway treat for golf enthusiasts with four courses nearby for several full-day ventures.
View course and hotel information at Omni's Barton Creek Resort.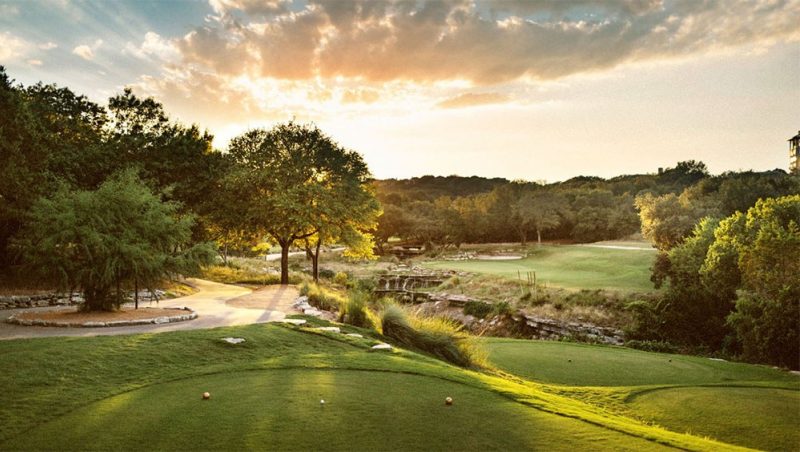 ---
Hike and Canoe at Big Bend
Big Bend is one of Texas' most beautiful places to view the clear night sky's constellations. It's also one of the best places to take on the Rio Grande for adventurers of all skills levels. From remote, high-thrill routes, to peaceful sightseeing tours, Big Bend National Park's 200 miles of Rio Grande is an adventure you can't pass up in far west Texas.
Big Bend also features a system of 150+ miles of hiking trails. Families can take short, scenic walks, and thrill-seekers can opt for rugged multi-day excursions. Trails aren't restricted to just hiking, either - local companies offer off-road vehicle tours, bicycle tours, and even horseback riding. Big Bend is a pure Texas experience.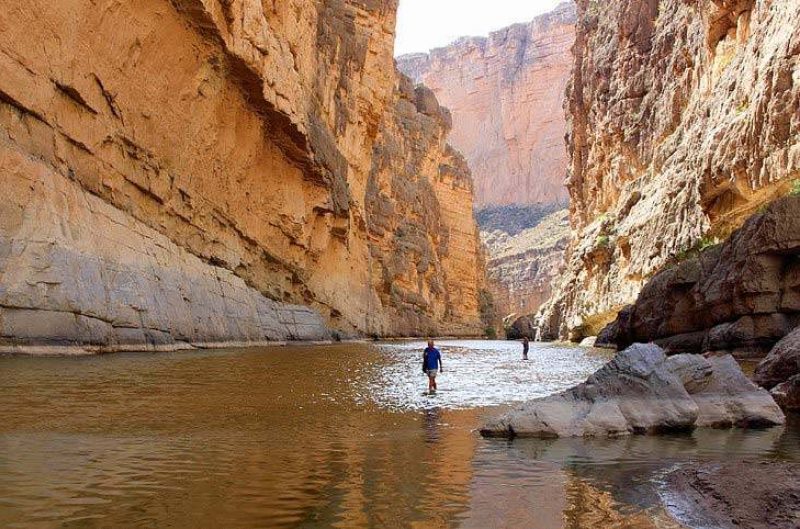 ---
Visit Texas' Rainforest at the Moody Gardens
Did you know Texas has its very own rainforest? Moody Gardens' rainforest pyramid allows you to enjoy a rare and up-close interactive experience in one of the closest replicas of a real rainforest. The aquarium pyramid features sea animals from all over the world. The Moody Gardens make a perfect trip for families with small children.
If you haven't visited the aquarium in a few years, there are several new additions to see. Moody Gardens completed a $37M improvement project to their 1.5-million-gallon aquarium!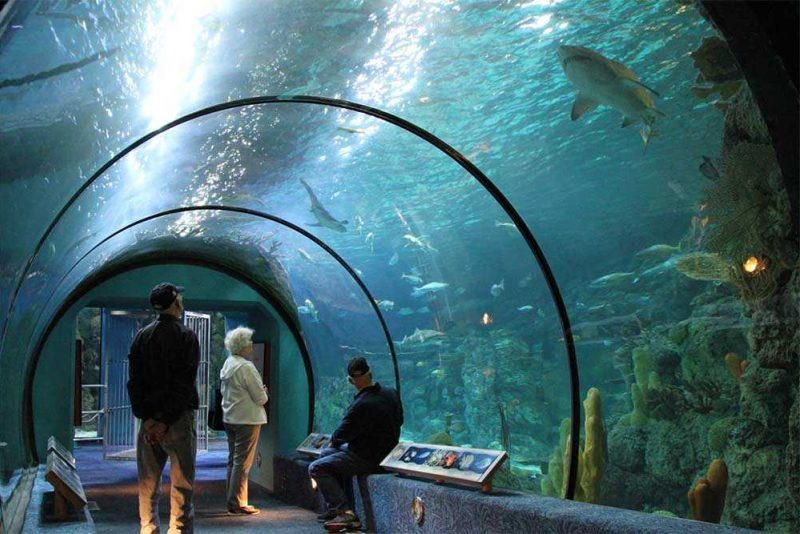 ---
Float the Frio
The 2.9 miles of Frio River at Garner State Park is crystal clear, and perfect for floating during a hot summer. There are sixteen miles of scenic trails to explore during a weekend camping trip. There's no light pollution for star gazers, and Garner is also a great place to study nature, picnic, fish, and even play mini golf. And if you're into geocaching, Garner's got you covered.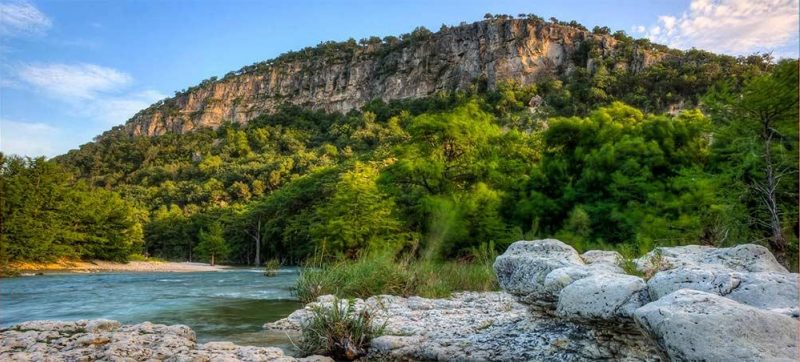 ---
Zipline Across Lake Travis
Did you know the longest and fastest zipline in Texas runs across Lake Travis? Now you do! Lake Travis Zipline Adventures offers a three-hour tour for $125. That includes access to private lake front property where you can hang out during the day. They also offer lodging overlooking the lake with grills and picnic areas to enjoy.