Article Excerpt
Texas has the best barbeque (sorry, non-Texans). We've chosen five standout restaurants near our clusters of offices throughout the state.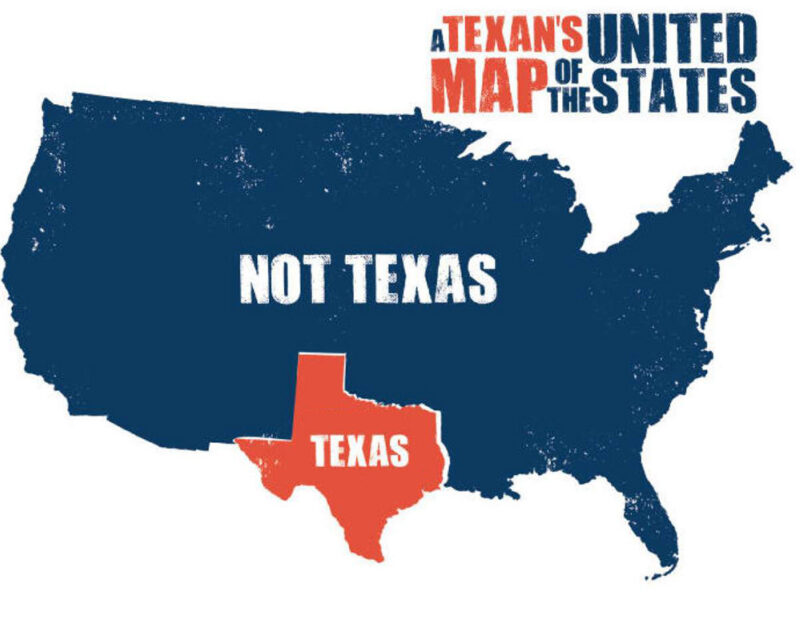 Non-Texans may have some silly misconceptions about us. Not all of us own a horse, we don't all chew tobacco, and we don't all own a pair of cowboy boots (although we should). But we do take great pride in the quality of our barbeque. As a Texan, if you've ever traveled "up north" (literally anywhere above the great state of Texas) and tried another state's barbeque, you may know there's a 50/50 chance of something going awry. Our barbeque here in Texas has to meet a minimum standard to stay in business.
But we'll tell you what: these joints are some of the finest in Texas.

Austin Area: Salt Lick BBQ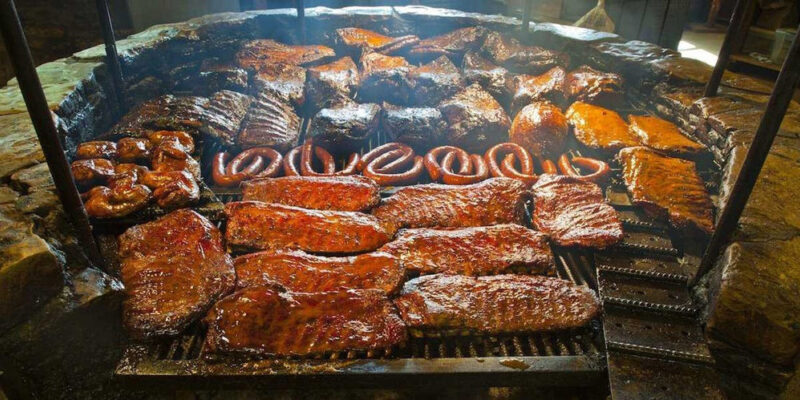 If you're a barbeque connoisseur in central Texas, you've heard of Salt Lick out in Driftwood. It's just outside of Austin. There's actually another location in Round Rock right next to the Dell Diamond!
As soon as you walk into Salt Lick, you're met with the sight of pounds upon pounds of fresh meat smoking on a giant old school grill. You better come hungry, because the unlimited (yes, unlimited) meat won't stop coming to your table until you say when.
Salt Lick was a dream come true for its original owners. It's a family restaurant where everyone feels welcome. The original Driftwood location features an expansive outdoor area with a banquet hall. Concerts, corporate events, and even marriages take place there. Making the drive from New Braunfels for a night out would be well worth it.
All in all, the Round Rock location upholds the same quality we expect from the original location.

Belton/Killeen/Temple: C&H Hawaiian Grill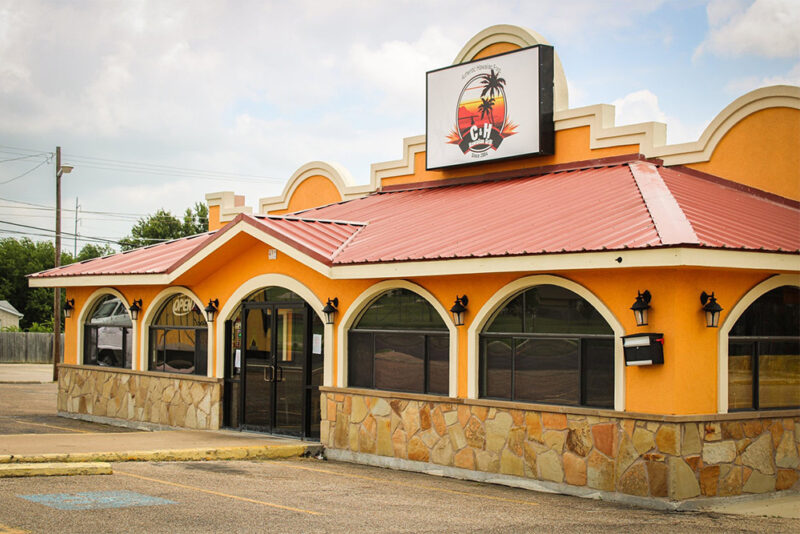 C&H isn't what you'd think of for "traditional" Texas barbeque. With that being said, we do have to recognize some of the better traditional choices in the 254: Miller's in Belton, Schoepf's in Belton, Clem's in Temple, and True Texas in Killeen to name a few.
But C&H is the kind of place that brings something unique to the grill. We love that. Brisket, ribs, kalua pork, and chicken are glazed in a homemade teriyaki sauce, grilled to a tasty, tender perfection. There are lots of salty/sweet Hawaiian dishes to explore.
C&H has come up in popularity in recent years, having opened their second location in 2014. The original location still stands in Killeen while the other is in Copperas Cove. Go try out the Hawaiian Grill. You won't regret it.
Check out C&H Hawaiian Grill's menu here.
Waco: Vitek's BBQ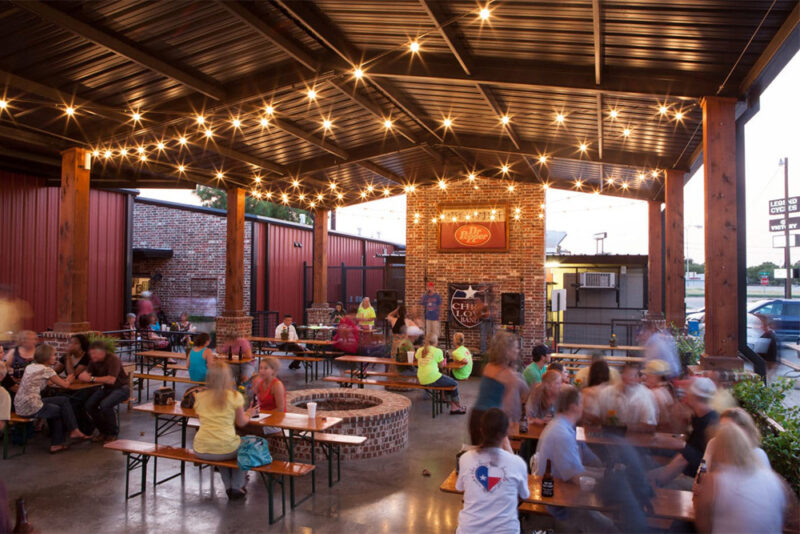 Vitek's is the most popular joint in Waco. In addition to gut-busting portions of fall-off-the-bone meat, there's also a nice little covered outdoor area. Lonely Planet's review says it best:

Since 1915 Vitek's has drawn the hungry crowds. Whatever your carnivorous pleasure, it's all homemade and excellent. Big appetite? Order the legendary Gut Pak, a monster of a sandwich with Fritos, cheese, chopped beef, beans, sausage, pickles, onions, and jalapeños. Great beer selection; enjoy on the covered outside area.
Google reviewers (more than 1,100 of them) seem to enjoy the food coma induced by Vitek's "Gut Pak." It's apparently a real "Waco delicacy." Take a look at this user-submitted photo of a half Gut Pak. The half portion still looks plenty filling.
Laree McBride, a first-time-Texan says "This was my first time in Texas ever. It was also my first experience with Texas BBQ. I have to say this is hands down the best BBQ I have ever had."
We're glad to have started off on the right foot, Laree.
Houston Area: Pinkerton's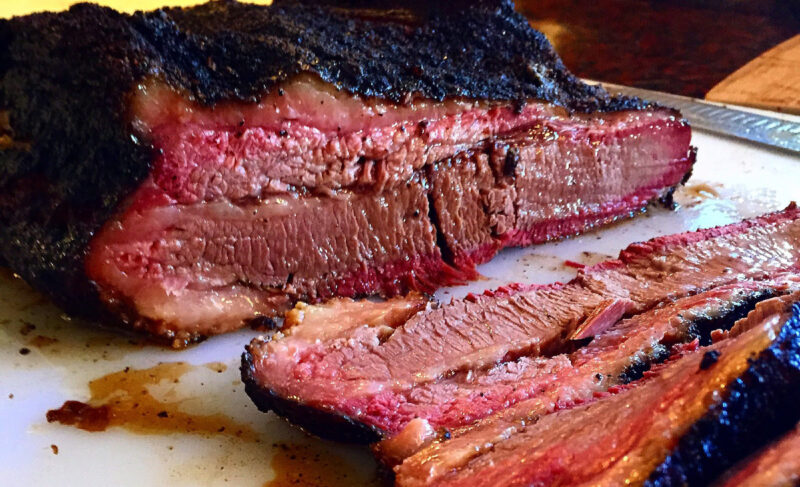 Pinkerton's a famous Texas barbeque joint that will sell out if you don't get there early - like Franklin's.
Google reviewer Dalton Speers claims Pinkerton's as the clear standout among everywhere else: "This is the best BBQ I've ever had. I've lived in Kansas City, Houston, Nashville, Phoenix, and Seattle." You're right, Dalton. Texas doesn't mess around with our meats.
Pinkerton's isn't trying to get cute and innovative. This is a straight-shooting joint that makes barbeque "as it should be," run by Grant Pinkerton, one of America's top up-and-coming pitmasters.
A small menu ensures quality control, and it's not unusual for them to sell out. The bar closes when the last person leaves. Cobbler is the standard dessert. If you're new around here, Pinkerton's is the place to start your barbeque tour. In a play-on-words phrase from the famous "Come and Take It" flag, Pinkerton's invites customers to "Come and Eat It."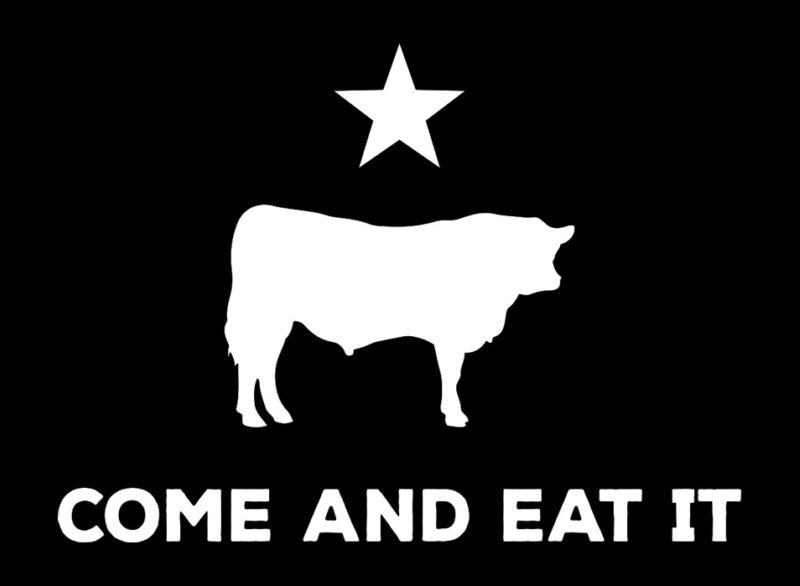 El Paso: Famous Dave's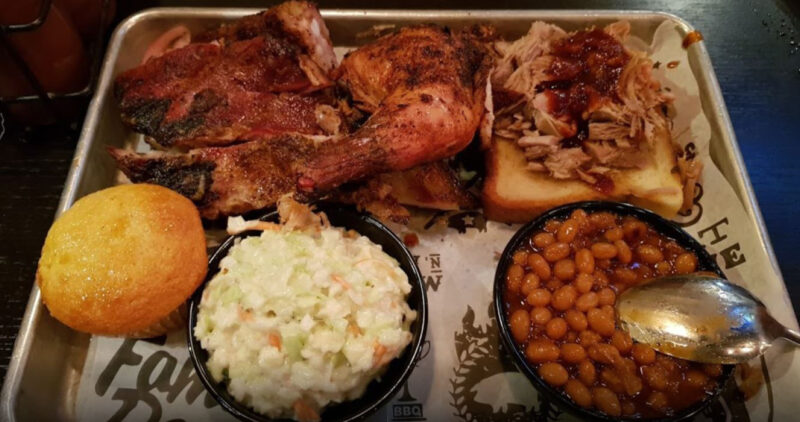 We couldn't forget about our El Paso friends. Y'all are way out there, but there's no shortage of top-notch barbeque. Famous Dave's is the most popular joint in town - and for good reason.
BBQ nachos, beef tips, burnt ends, and a myriad of sauces at every table will take good care of any barbeque craving. Customers have a lot of positive feedback on friendly service and the drink menu. The "American Feast" allows you to sample several different meats.
---
There's good barbeque around all of our offices here in Texas - and everywhere in-between!