Article Excerpt
Check out our top 10 Halloween decoration ideas! Easy, cheap, and super effective for making your house the spookiest stop on the block.
#10: Giant Outdoor Spider Web
This giant spider web uses nylon rope to set a super spooky scene in your front yard. It's about 20 feet long and uses stakes to hold it in place. Imagine putting some gravestones in the ground underneath the web with spiders crawling from top to bottom. Combine that with a fog machine and some eerie lighting - your house is officially haunted! You can find a giant spider web decoration at Wal-Mart.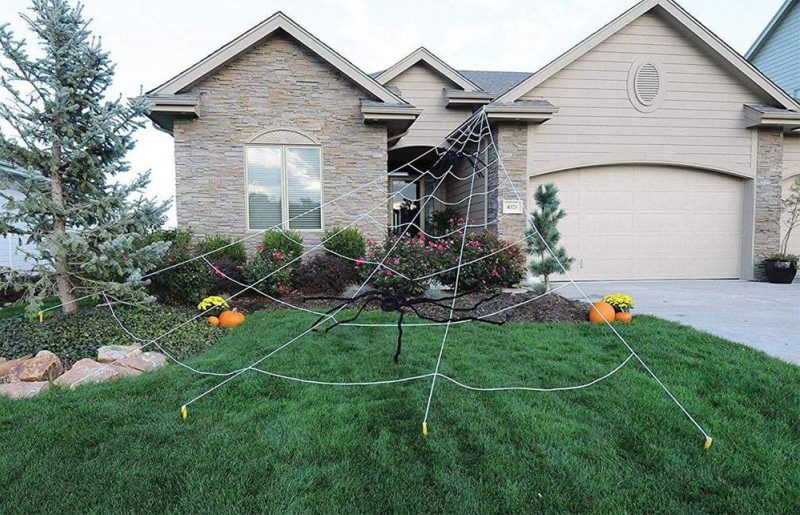 ---
#9: Halloween Scene Projector
Step up your decoration game with an LED projector! This projector from Home Depot includes six different slides that'll make skeletons, ghools, and witches light up your garage door! It can also be used indoors if you want an angry rainbow-colored pumpkin to light up your mantle. Halloween projectors range from mild to wild, with some of them setting you back over $100.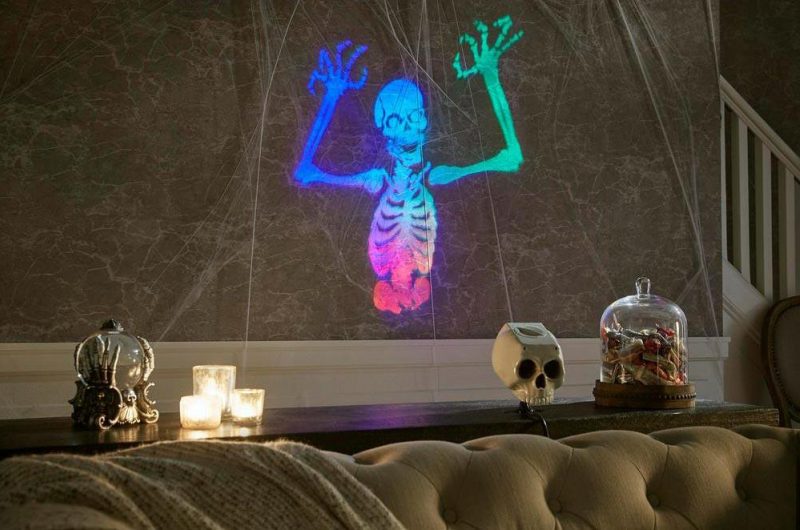 ---
#8: The Classic Fog Machine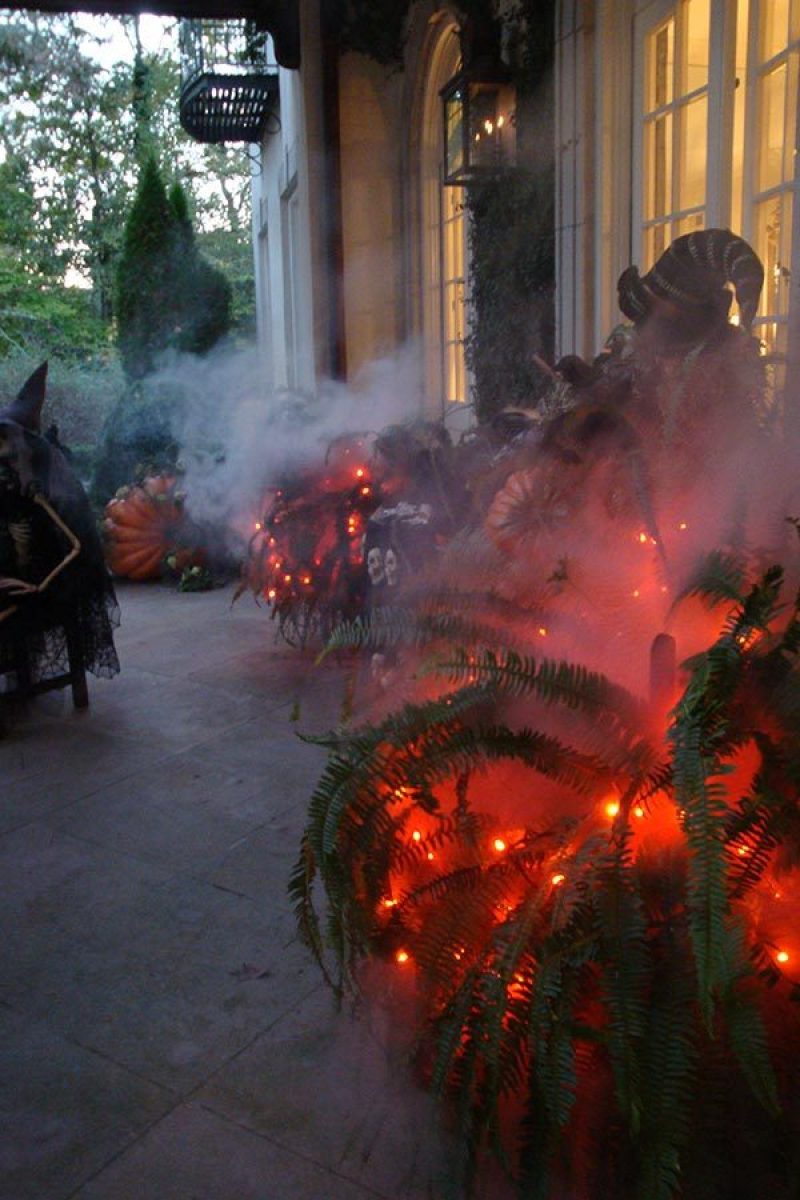 Really want to be the most haunted house on the block? Nothing completes the Halloween ambiance like a fog machine. A looming fog on the front porch will make trick-or-treaters feel like they're entering a graveyard (with lots of candy, of course).
Remember to pick up some "fog juice" - it's the liquid that actually makes the fog. Pick up a fog machine at your local Spirit Halloween store, and don't forget an extra bottle of fog juice.
---
#7: Laser-Dot and Strobe Projector
Take your front yard to the next level with an LED projector. This kind of laser-like lighting will really set off a fog machine as you'll see each green ray piercing the clouds. If you don't want a lot of attention this Halloween, you definitely don't want this LED projector covering your house with bright green lasers. You can find a highly-rated laser-dot projector on WayFair.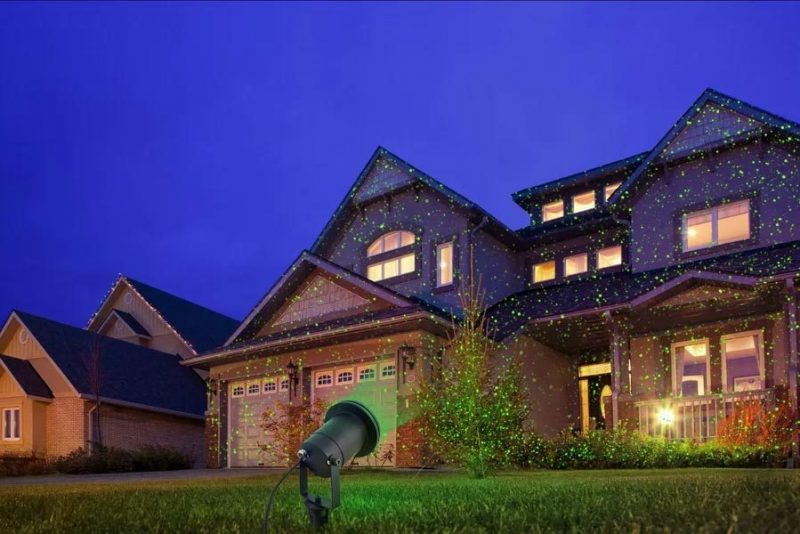 ---
#6: Front Yard Tombstones
Foam tombstones from Party City are an affordable way to set off your Halloween scene. Or, you can go the DIY route and try some arts and crafts with your kids to make custom foam tombstones. Some people write funny captions on their tombstones like "RIP Blockbuster Video". Either way, you may want to secure your lightweight tombstones with rocks or sand to keep them from blowing away.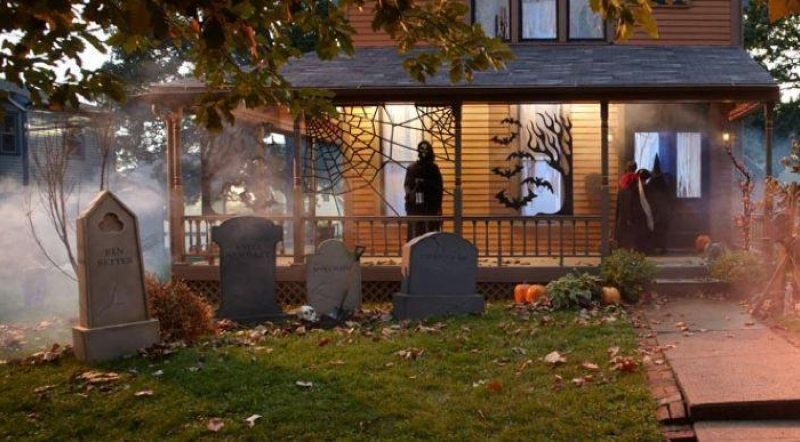 ---
#5: Hanging Balloon Ghosts
These are easy, cheap, and kids of all ages can make their own! All you need to make these cute little ghosts is a balloon, some gauze, duct tape, and string. You can hang them from trees, your roof, archways in your house, or anywhere else you can tie a string. They'll sway with a light breeze, adding to that floaty, ghosty effect.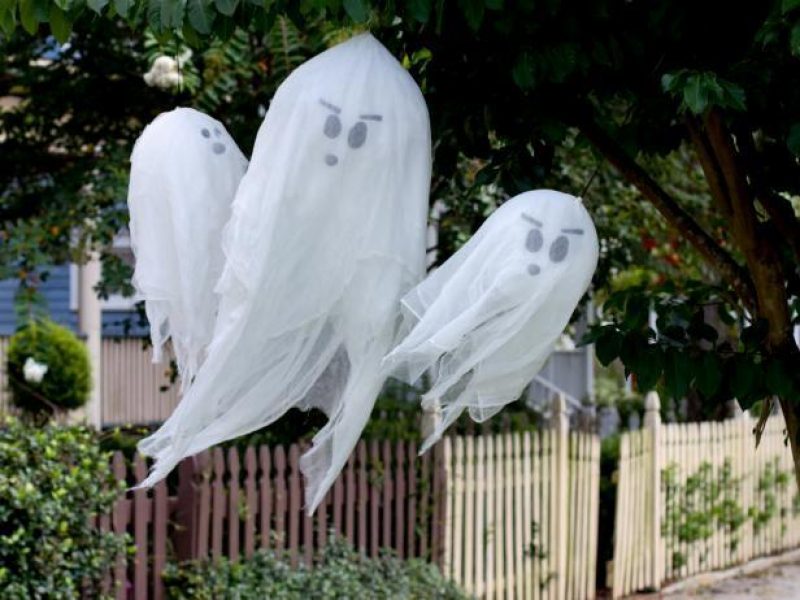 ---
#4: Leaf-Bag Ghosts
Bagging leaves this weekend? Choose some white bags instead of black ones - when you're done cleaning up leaves, tie your bags up, turn em upside-down, and draw faces on them with black permanent marker. Now you have fat little ghosts with their arms up scaring your neighbors. Easy! Your kids may be a little more excited to help out around the yard if you're making leaf ghosts.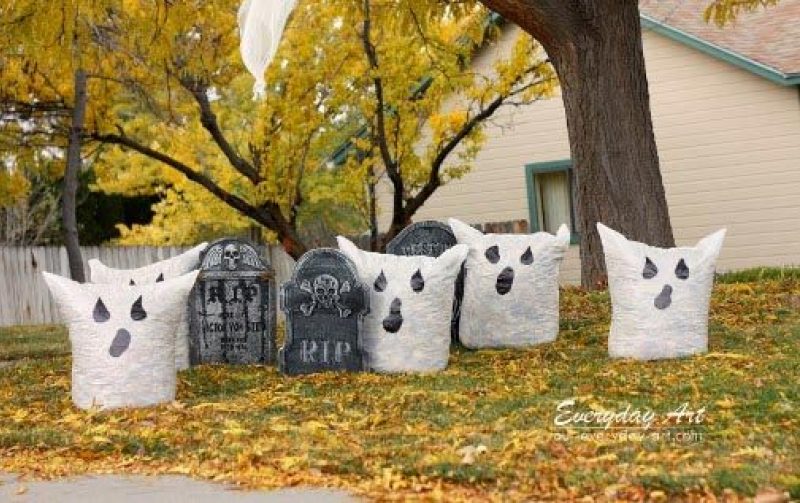 ---
#3: Spooky Window Eyes
These spooky light-up wolf eyes at Target are the easiest way to decorate your windows. But you can place them anywhere around your home to finish off your Halloween decor. After you hang them up using the included hanging ring, all you have to do is plug them in. Simple and easy.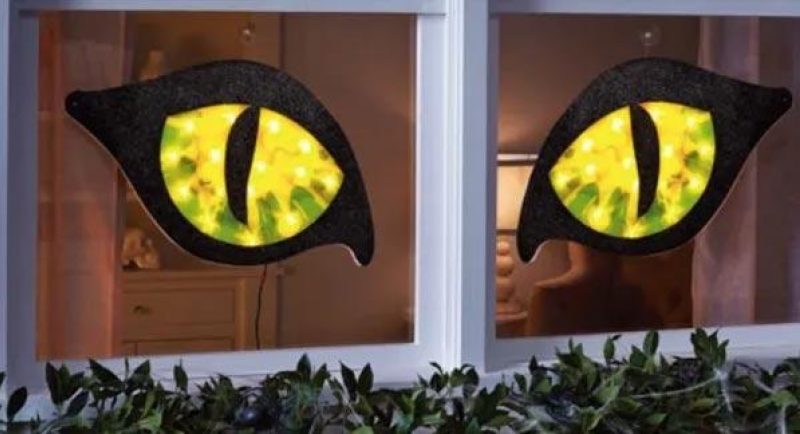 ---
#2: DIY Monster Garage Door
With black plastic sheets, foam core, and poster board, you can transform your garage door into a menacing monster mouth. This is another cheap project the whole family can get in on. If you have windows above the garage door, top off the monster face with some spooky light-up eyes in the windows. Monster garages are easy and creative, with lots of room to make it unique. It'll definitely get compliments from your trick-or-treaters.
---
#1: Carved Pumpkins (Duh!)
How could we finish this list without mentioning pumpkins? Here are some tips on pumpkin carving you may have not heard about: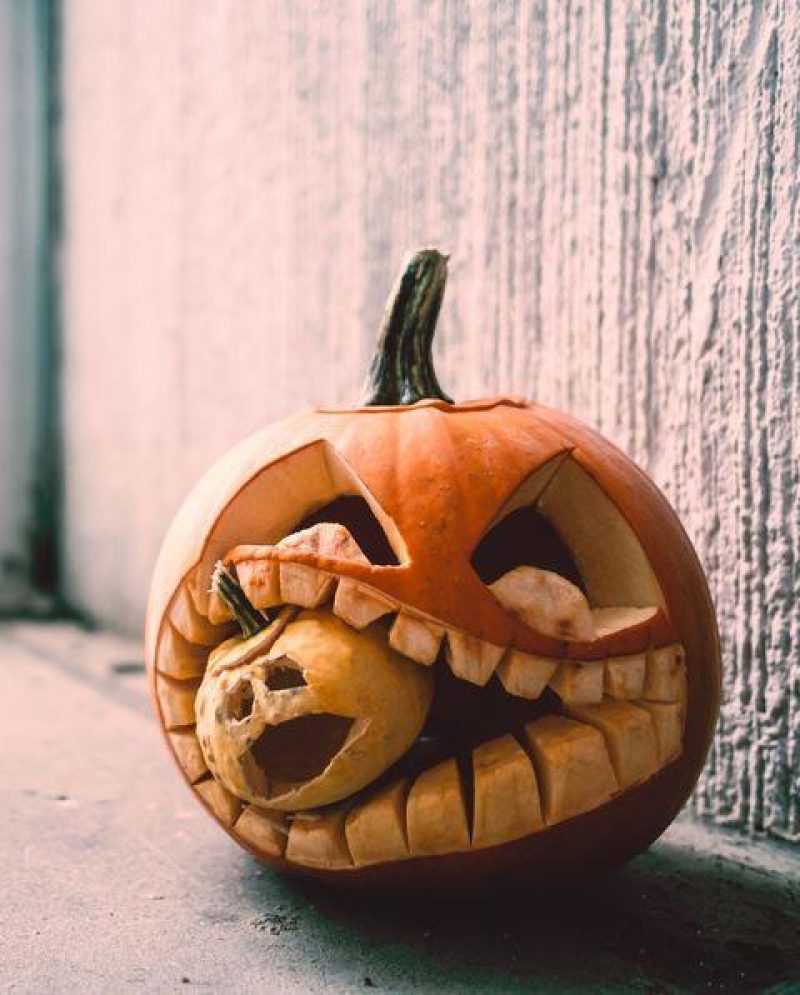 Don't cut off the top in order to remove the insides. Removing the damages the structure of the pumpkin. If you cut a hole in the back, your pumpkin has a better chance of lasting longer.
Scoop EVERYTHING out. Scrape the walls super thin. You want the inside to be as dry as possible to prevent mold.
Try an LED light inside instead of a candle. They're brighter and don't melt the pumpkin inside.
Wait to carve it until the week of Halloween. An uncarved pumpkin can last a long time. But as soon as you make that first cut, decomposition starts fast.
---