Article Excerpt
It's true that Texas has a booming economy, low unemployment, and no state tax - but what else about our state draws so many people in?
If you ask a native Texan what's so great about their state, you may get a smirk instead of an answer. Every Texan knows that everything is better, and bigger, in Texas. There's no need to discuss it.
Of the five fastest-growing cities in the nation, three are in Texas! Why are thousands moving to Texas every year? Maybe these ten facts will help explain.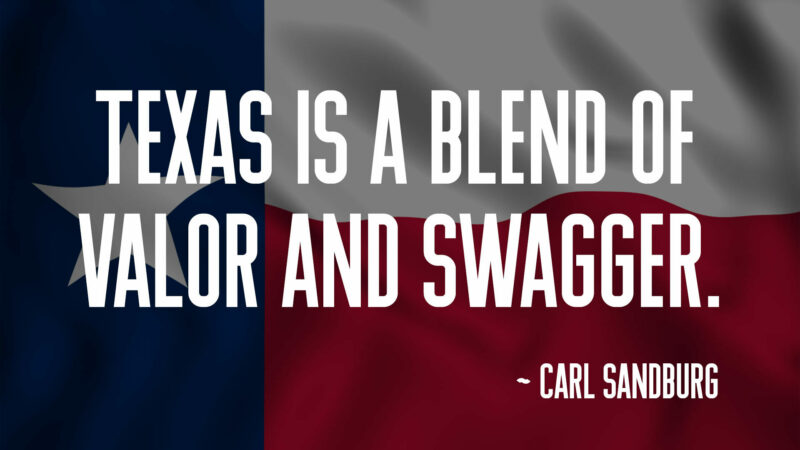 10."I'm from Texas, what country are you from?" This common bumper sticker quote is said in jest, but from 1836 to 1845 Texas was indeed its own country. It is the only state to enter the United States by treaty instead of territorial annexation.
9. Texas is larger than any country in Europe. If Texas were still a country, it would be the 40th largest in the world. With so much space to travel, it's a good thing Texas also has the fastest speed limit in the nation, 85 mph, on a stretch of toll road between Austin and San Antonio.
8. Whataburger. Number 3 in this list is about food in Texas, but Whataburger deserves its own spot. Among the most famous menu items include the classic Whataburger cheeseburger, honey butter chicken biscuits, and the 910-calorie honey bbq chicken strip sandwich. Whataburger was the first burger joint to use five-inch buns, larger than any other bun at the time, having them custom made in a bakery in Corpus Christi. Another fun What-a-fact is that the iconic orange and white stripe design was used by the founder, Harmon Dobson, an avid pilot, so he could spot his restaurants from the sky!
7. Rodeos. The world's first rodeo was held in Pecos on July 4, 1883. This longstanding and beloved tradition can be experienced at large events like the Houston Livestock and Rodeo, or at numerous small towns throughout the state.
6. Audaciousness at its finest. The Texas State Capitol building, which is made of native pink granite, is the largest state capitol in the nation. Though the U.S. Capitol is bigger in square footage, its dome is seven feet shorter than the Texas Capitol dome.
5. There's more to Waco than Chip and Joanna Gaines. The first suspension bridge in the U.S. is the Waco Bridge. It was built in 1870 and is still used today as a pedestrian crossing of the Brazos River. Dr Pepper was also invented in Waco.
4. Extremely diverse landscapes. If you ever have the pleasure of traveling across Texas from east to west (which takes about 14 hours) you'll experience alligator-infested lakes, beautiful pine forests, rolling hills, craggy mountains, crystal-clear rivers, deserts, and of course, a canyon, second in size only to the Grand Canyon. There's more! Texas has more coastline than North Carolina or Oregon!
3. As Texan as Pecan Pie. From Tex-Mex to barbecue to burgers and beyond, Texas' food is delicious enough that it alone would be worth making the journey to the Lone Star State. Nothing finishes off a spread of brisket, pinto beans, and slaw better than a slice of Pecan Pie – the official dessert of Texas. Add a scoop of Blue Bell ice cream for the perfect Texas dessert.
2. Willie Nelson. Janis Joplin, George Strait, Beyoncé, Miranda Lambert, Buddy Holly... and the list goes on. "We didn't invent country music, but we damn well perfected it here." – Houston Chronicle.
1. Stay warm. Yes, it is hot in Texas, but our true warmth comes from being "The Friendly State." Native Texans are the most genuinely friendly people you will ever meet. There's no such thing as a quick trip to the grocery store because someone is sure to strike up a conversation in the checkout line, whether they know you or not. And while driving, be ready to wave at other drivers, especially in rural settings. If you don't, that's a sure sign you're not from here!

Want to become a Texan?
The Wood Group of Fairway is the mortgage team Texans trust. If you're in the market for a home - whether you're a newcomer or a native - let us help make your move easier. Start your home loan pre-approval today!