Article Excerpt
Most closets are used simply to store clothing. These three closets are more like separate houses. Take a look to see their claims to fame.
A large, luxurious closet is often a focal point when people show off their homes. TV shows like "MTV Cribs" broadcast the lives of celebrities who will often show off their closets. Luxury closets often seem like their purpose is as much to display certain items as it is to store clothing. In this sense, they can seem almost like small museum galleries. Exploring the world's most extreme luxury closets is difficult since it depends on people opening up their expensive homes to public view. Even if we can't see the most extreme examples, we can still discuss what makes a closet truly "luxurious."

What defines a "luxury" closet?
Defining a luxury closet is mostly a matter of taste, meaning that each of us knows a luxury closet when we see it. Some elements seem to be common to most people's idea of "luxury," though:
Size: A luxury closet is more than just a walk-in. It's a room unto itself where you can spend time with your belongings.

Style: It has distinct style elements that make the room memorable.

Unusual features: Many luxury closets have one or more customized features that you wouldn't expect to see in this type of room, such as a built-in ladder to reach high shelves.

Luxury goods: Size and design are only part of what makes a closet "luxury." It typically also includes — and displays — expensive clothes, watches, and other goods.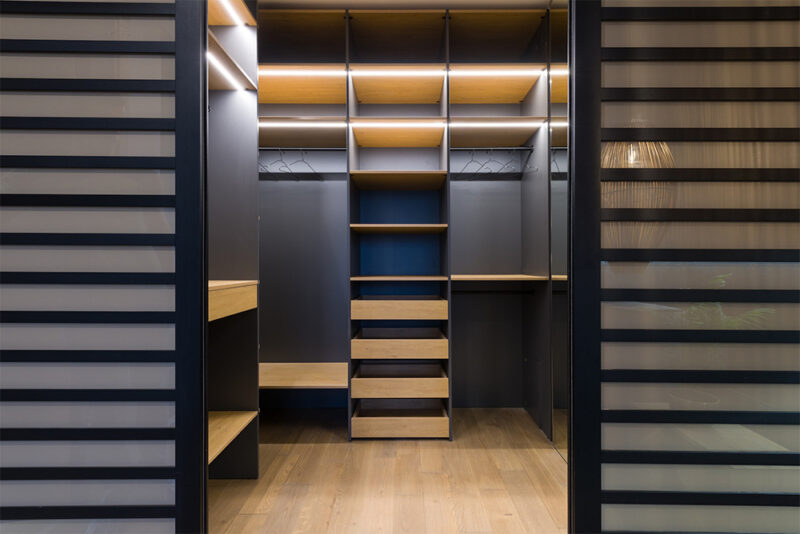 Examples of Luxury Closets
Owners of luxury closets tend to be protective when it comes to pictures, and understandably so. Still, we occasionally get glimpses inside their homes.

Closet with a Salon | Beverly Hills
Pictures of a luxury closet sometimes become available when a home goes on the market, and then they mostly disappear from the internet when the house sells. That happened with a home owned by the singer Christina Aguilera when she put her Beverly Hills home on the market in 2011. Real estate listing websites included pictures of a spacious closet decorated with a red and pink color scheme, which included a beauty room that looked like a Hollywood dressing room. When the house sold in 2013, most of the photos were removed.

Two-Story Closets | Dallas
An article in the Dallas Morning News from 2020 showcases several luxury closets in the Metroplex, including two multi-story closets. One features two floors of storage space, while the other offers additional amenities like a hair salon and exercise area.

Three-Story Closet | Houston
A 17,000-square-foot home in Houston reportedly has the largest closet in the United States. At 3,000 square feet, the closet takes up more than 17% of the home's total space. It has two spiral staircases and seemingly endless rows of shelves displaying handbags, jewelry, and other luxury items. It has been featured in several news items and at least one hip-hop music video.

Check out more crazy closets!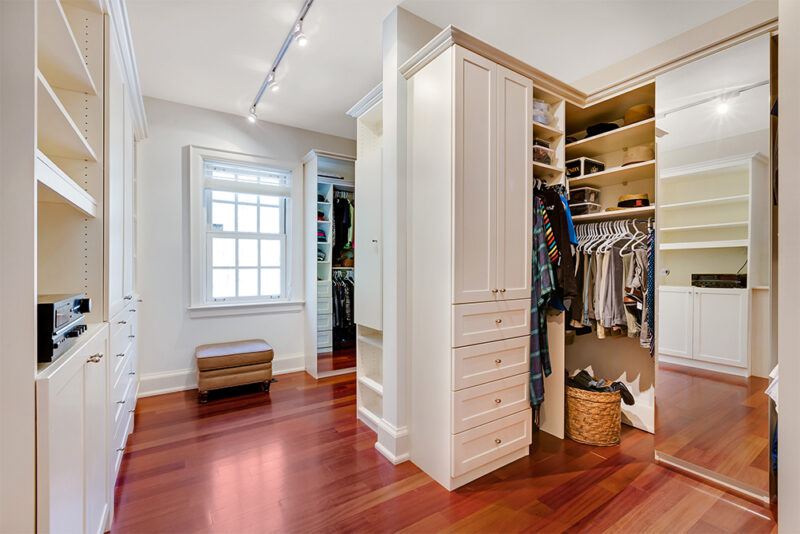 Your home, your rules!
When you own a home, there's nothing stopping you from making plans to tear down a wall and combine bedrooms to create a massive luxury closet. Your landlord isn't going to throw a fit (because you won't have one)!
Find out which mortgage options you qualify for. Start now by answering a few easy questions. Already own a home and looking to make improvements? A renovation loan is a convenient way to finance them.