The American Warrior Initiative (AWI) is a 501c3 sponsored by Fairway Independent Mortgage Corporation. Its aim is to educate real estate agents on the challenges facing men and women returning from war.
This January, The Wood Group of Fairway held two Certified Military Residential Specialist (CMRS) Boot Camps – a four-hour continuing education credit class and certification event for real estate professionals. The CMRS program provides a much-needed training platform where real estate professionals prepare to handle the unique mortgage needs of central Texas veterans.
Two incredible veterans, honored as special guests at The Wood Group's AWI Boot Camps, did not expect what was in store for them.
Central Texas vets receive more than good mortgage options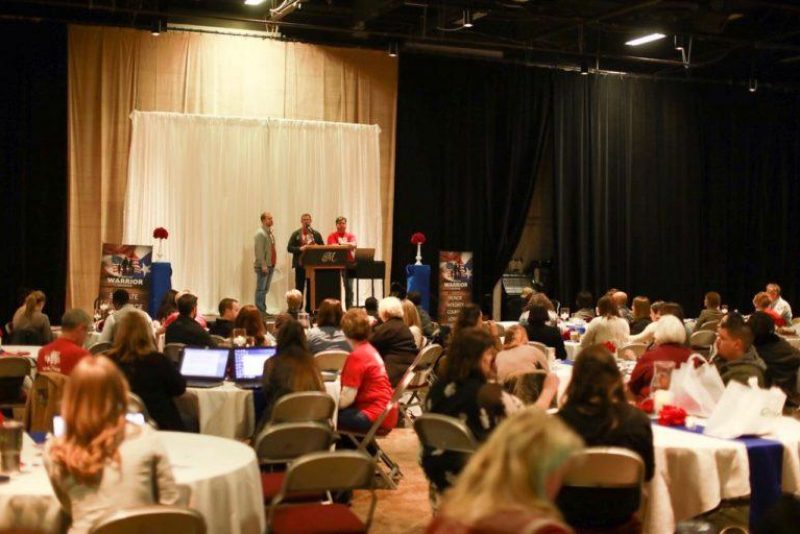 Mayborn Convention Center in Temple played host to the first of two AWI Boot Camps this January. Each morning's CRMS training contained lots of helpful information on the ways real estate agents can better serve veterans and their families. In the afternoon, Captain Sean Parnell shared his experiences while serving in the U.S. Army as a combat veteran in Afghanistan. Captain Parnell authored the NY Times best-selling "Outlaw Platoon", describing the story of his platoon's heroic stand in the mountains of Afghanistan.
Retired Staff Sergeant Josh Abbatoye was one of two central Texas veterans that received honors in the January boot camps. While wounded, Staff Sergeant Abbatoye continued to provide covering fire on RPG position, receiving the Purple Heart while leading an ING platoon during a mounted patrol under contact fire. Without complaint, he executed more than one hundred combat missions while on profile from a previous injury.
As a thank you from Fairway and local businesses, Staff Sergeant Abbatoye received a bass boat from Marine Outlet of Temple. This gift was selected in hopes of providing him a means to cope with the effects of PTSD.
"He had to evacate his house, and he's been trying to slowly rebuild. We just wanted to stand behind him today."
- Matt Wood, Managing Partner at The Wood Group of Fairway
The second event, held just one day later at First Baptist in Bryan, honored retired Corporal and Texas A&M University student, Kevin Jensen. Corporal Jensen received a purple heart in Afghanistan after being injured and yet saving a fellow soldier's life. Flooding near his home in Hempstead forced Jensen to evacuate. To help him rebuild, The Wood Group of Fairway and generous sponsors donated $20,000 dollars for repairs to his home.
One very special guest was on hand to present the check. Take a look at the news story from KTBX to learn who and get a view of the day in Bryan.
The Wood Group of Fairway offers competitive home loans for Texas veterans
At The Wood Group, we work hard each day to serve veterans and their families with specialized mortgage programs, like our TX Vet Housing Assistance program and other VA products.
A VA loan can provide an affordable option for veterans and surviving spouses. Additionally, they offer low and no down payment options for your new home.
Veterans eligible for Texas Vet Housing Assistance have an opportunity to purchase a home with a low-interest loan and little or no down payment. Additionally, veterans with a VA service-connected disability rating of 30% or greater may qualify for a discounted rate.
The Wood Group of Fairway understands and appreciates the sacrifice of our veterans across the state. The transition back to civilian life and into that dream home should be simple and enjoyable. That's one way we pay back what we've been given.
Give back to veterans by supporting American Warrior Initiative
If you're a real estate professional, locate an AWI Boot Camp in your own backyard. Or, purchase AWI apparel on their website. All proceeds go to benefit this great work.