Article Excerpt
Winter is hot tub season in Texas. Learn more about how hot tubs work, how much they cost, and whether you should get one for your home.
Winter is hot tub season in Texas. While hot tubs can provide year-round relaxation and enjoyment, winter is when we particularly appreciate having a place to kick back and stay warm. How do you know whether a hot tub would work in your home? What kind of hot tub should you choose? How much will it cost? Read on to learn more about your options.
Types of Hot Tubs
Hot tubs are available in three general categories:
Portable/above-ground: This type of hot tub is made of molded acrylic. It can be installed on a deck or patio, or directly on the ground. While moving an above-ground hot tub isn't exactly easy, it can be done.

In-ground: This type of hot tub is the most customizable, but also the most difficult and most expensive to install. They are often part of a larger swimming pool project. They might include a prefabricated liner, or they could be molded during installation.

Inflatable: These range from very simple to fairly high-end. They are the most easily portable type of hot tub when fully deflated, and they tend to be the least expensive. The best ones are more durable than you might think.
Once you have decided what type of hot tub you want, you have many options for features like size and style.
Shape: Hot tubs come in circular, oval, square, and rectangular shapes. You might even find a triangular one.

Size: The size of a hot tub is often measured in the number of seats it offers. The smallest hot tubs can seat four adults, although it might be a tight squeeze. The largest hot tubs can hold around twelve people.

Seating: Prefabricated hot tubs may offer a variety of seating options, ranging from a simple shelf to molded ergonomic seats.

Height/Depth: In addition to the number of seats, hot tubs are available in various heights. This measurement becomes depth once you're in the water, but height is an important consideration for above-ground hot tubs. The taller you are, the more height/depth you're likely to want.

Placement: Some hot tubs are specifically designed for outside use, while others may work better indoors.

Weight: One gallon of water weighs about 8.3 pounds. You need to make sure to place your hot tub in an area that can bear the weight of the hot tub, the water, and the hot tub's occupants.

Water pumps: The pumps power the jets and keep the water circulating. The more pumps a hot tub has, the more jets it can run. Pumps are available in 110 and 220 volts.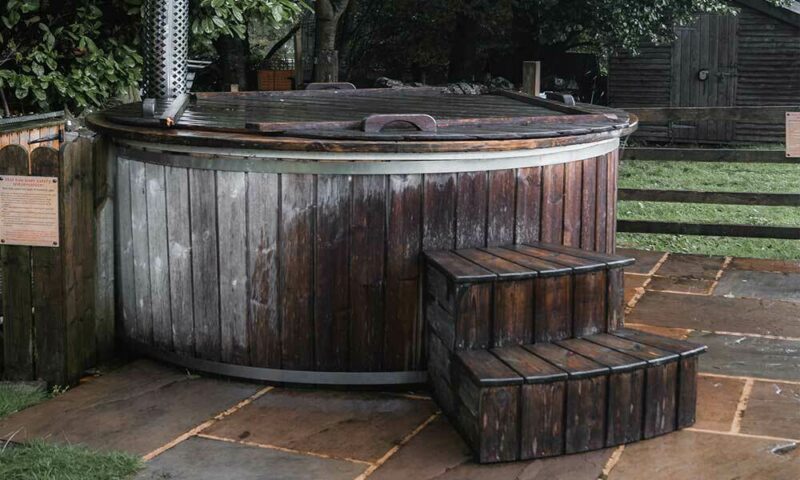 Simple vs. Premium Hot Tubs
The simplest hot tub provides the fundamentals: an above-ground place to sit in heated water with jets run by a 110-volt pump. It is probably not particularly energy-efficient, and it requires maintenance.
The most premium hot tubs offer more and better jets, along with some less-visible benefits. They tend to be much more energy-efficient, and they often include filtration systems that reduce the need for maintenance. High-end hot tubs might have extra amenities like lighting features and "smart" control systems that let you fine-tune temperature and jet strength.

How much do hot tubs cost?
A new hot tub can range in price from a few hundred dollars to the low five figures. The least expensive ones often have the fewest installation costs, but also require the most maintenance. The fanciest ones cost the most upfront, but can nearly take care of themselves after that.
Least Expensive: Inflatable hot tubs tend to cost the least to purchase, usually around $500 to $2,000. They require rather extensive maintenance, not to mention the time and energy required to inflate and deflate them.

Mid-range Cost: Above-ground hot tubs are in the middle, typically costing $3,000 to $6,000. This cost includes the hot tub itself and the installation. Premium and luxury above-ground hot tubs, however, can cost up to $12,000 or so.

Most Expensive: In-ground hot tubs require the most labor-intensive installation, and can cost from $12,000 to $20,000.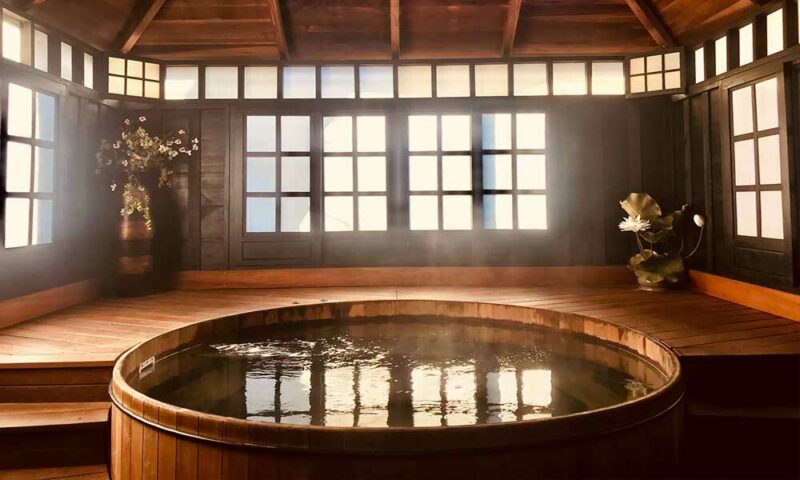 Maintaining A Hot Tub
Hot tub maintenance does not have to be complicated, but it does require attention and consistency. Keeping the water circulating is one of the most important aspects of maintenance. Higher-end hot tubs allow you to program automatic cycles one or more times per day when the hot tub is not in use. Otherwise, you should run the hot tub for at least a few minutes daily and clean the filters regularly. Every few months, you should drain the hot tub completely and refill it.
Regular cleaning is also important. Keeping an outdoor hot tub covered can prevent leaves and other materials from getting in. While the hot tub is drained, you can go in and clean the surfaces.
You also need to make sure the water chemistry is balanced correctly. This requires checking the pH levels and having the right chemicals on hand.

Ready for more home freedom?
When you own a home, you're free to make it your own - including adding a hot tub! Answer a few questions to get started and see exactly which mortgage options you qualify for.