Article Excerpt
Learn about facts, stats, and perceptions on home ownership in America in 2021. Is home ownership possible for you?
The real estate market is booming in Texas right now, but what does that actually mean? The number of homeowners has risen rather dramatically in the past year, both in Texas and across the rest of the country. The percentage of houses occupied by their owners has stayed fairly steady in recent years, which suggests that more people are renting homes as well as buying them.
The dream of homeownership looks very different for different people. Younger people may not understand owning a home as a realistic prospect in their near future. Statistics about high sales prices for homes might tend to encourage that view, but many programs are available to help people who want to own a home.

Homeownership Rate
After every calendar quarter, the U.S. Census Bureau publishes data regarding homeownership rates. Before we dive into the numbers, though, we should be clear about what that term means.
What is the "Homeownership Rate"?
The term "homeownership rate" might be a bit misleading. It does not measure the percentage of people in the U.S. who own homes. Instead, it measures the percentage of homes that are occupied by their owners, as opposed to being occupied by renters. The percentage is calculated by dividing the number of owner-occupied "housing units" by the total number of occupied units. The number of vacant housing units is not part of the calculation.

2021's Homeownership Rate
The most recent data available to the Census Bureau are from the first quarter of 2021. As of then, the nationwide homeownership rate is approximately 65.6 percent. Texas is slightly below the national rate, at 64.8 percent. For major metropolitan areas in Texas, the rates are as follows:
Austin-Round Rock: 64.6 percent

Dallas-Fort Worth-Arlington: 63.7 percent

Houston-The Woodlands-Sugar Land: 65.6 percent

San Antonio-New Braunfels: 62.9 percent
The Census Bureau estimates the total number of "housing units" in the country to be a bit over 140 million. Of those, about 124 million are occupied, and about 81 million are occupied by the owners.


The homeownership rate can fluctuate by season, and it has varied rather widely over time. In the past twenty years, it reached a high of 69.1 percent in 2005, and a low of 63.5 percent in 2016.
How many people rent and how many people own homes?
The homeownership rate can give us an idea of how many people own their homes versus how many people rent. Of the approximately 124 million occupied homes in the country, 81 million are occupied by the owners, and 43 million are occupied by renters. Another 16 million or so remain vacant.
The Census Bureau has more detailed information about homeownership available from 2020. As of the end of last year, about 85 million individuals or families owned their homes. About 41 million rented, and another 1.5 million occupied their homes without paying cash rent.
Homeownership Distribution by Age
Breaking the homeownership rate down by age offers a more nuanced view of the situation in the U.S. The homeownership rate for most Millennials, generally defined as people born between 1981 and 1996, is less than half of the rate for people age 65 and older. The website Statista offers a breakdown of the first-quarter data by age groups:
Under 35 years of age: 38.1 percent

35-44 years: 62 percent

45-54 years: 69.4 percent

55-64 years: 75.7 percent

65 and up: 79.3 percent
Perceptions of Homeownership by Age
The oldest Millennials, using the standard cutoff points for their generation, are turning 40 this year. The youngest will be turning 25. Most Millennials are well into adulthood, or even into early middle age, depending on how one might choose to look at it. How they perceive being able to buy a home is important data.
This type of statistic is much more subjective than basic facts about homeownership, so it is not something the Census Bureau provides. Surveys by private organizations seem to suggest that Millennials tend to take a pessimistic view of homeownership. In one survey, for example, sixty-four percent of Millennials expressed "regret about purchasing their current home." Older generations showed much less regret, with only forty-five percent of GenX and one-third of Baby Boomers expressing similar sentiments. The survey asked about specific regrets. Responses included not getting the best mortgage rate, high mortgage payments, and paying too much overall for a home.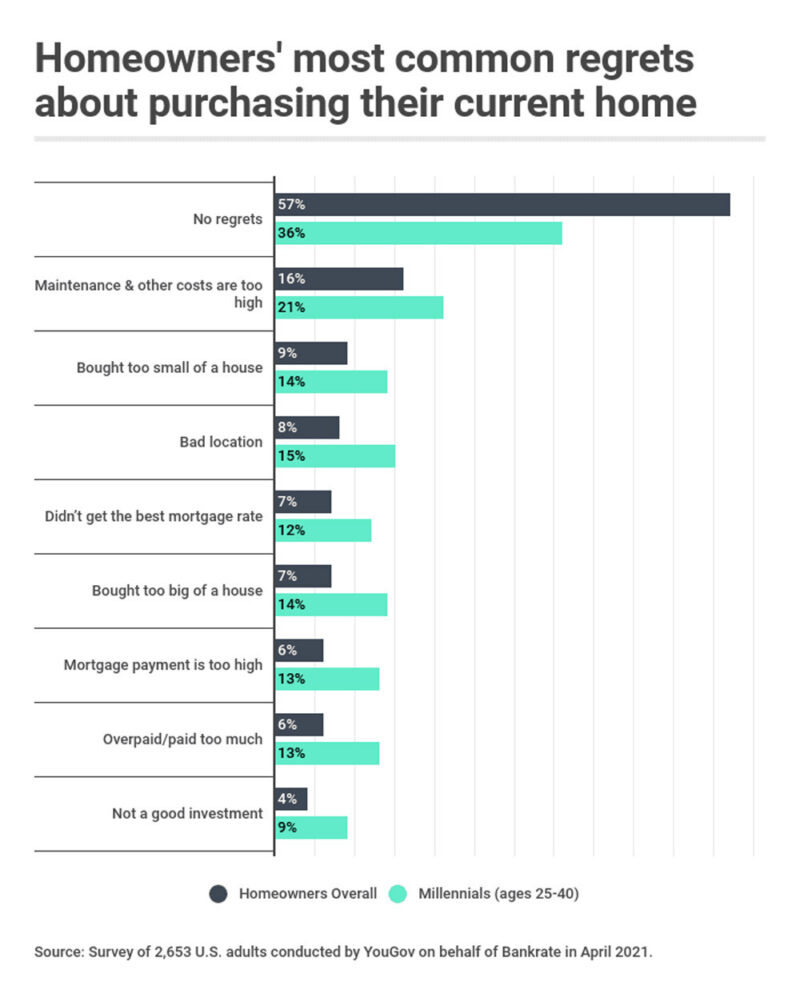 Most Commonly-used Mortgage Programs
The Consumer Financial Protection Bureau (CFPB) collects information about mortgage loans from lenders. Its most recent report covers 2019. Lenders originated over 3.8 million purchase-money mortgages for owner-occupied homes that year. Of those, almost 2.5 million were conventional loans. The distribution of non-conventional mortgage programs was:
Mortgage Credit Availability
The Mortgage Bankers Association (MBA) issues a periodic report called the Mortgage Credit Availability Index (MCAI), which measures mortgage lenders' standards for extending credit. The higher the MCAI, the looser the restrictions for mortgage loans.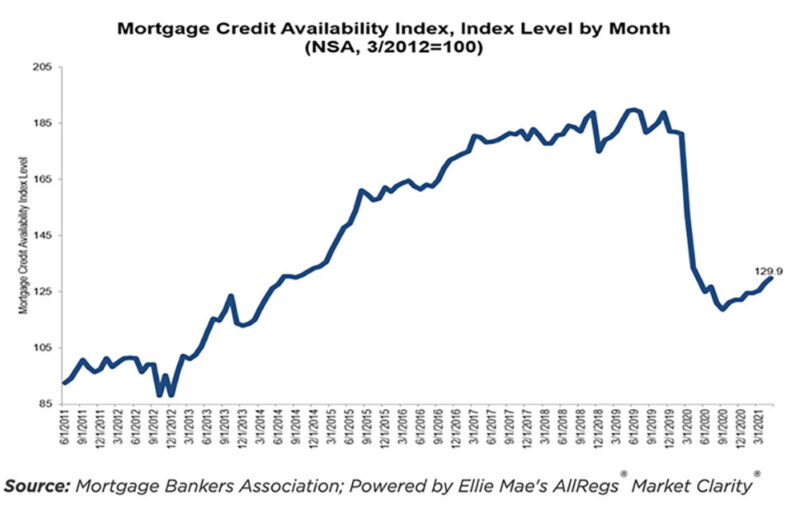 As of the end of May 2021, the MCAI was at 129.9. This is, according to the MBA, its highest level since the COVID-19 pandemic began over a year earlier, but nowhere near the highest point it reached in late 2019. Hopefully, this upward trend will continue.
Is homeownership possible for you?
The Wood Group of Fairway helps people throughout Texas realize the dream of homeownership. If you'd like to learn more about your local market - or if you can qualify for a mortgage - get started with a few quick questions!