Article Excerpt
Create movie theater experiences in your living room with these simple tips and products. From eco setups to the grandiose, the experience is all yours.
There are those who prefer a living room setup that focuses on conversation, with the television discreetly hidden behind closed doors. Then there are those who would install a theater-sized television if only they had a bigger wall. If you fall into the second category, this post may be for you.
Creating a movie-theater-like experience in your own living room is possible but with varying results. It depends mostly on the size of your wallet and living room. The good news is that there are ways to "amp" up your movie-theater experience and still have money left over for popcorn.

Basic Home Theater Setup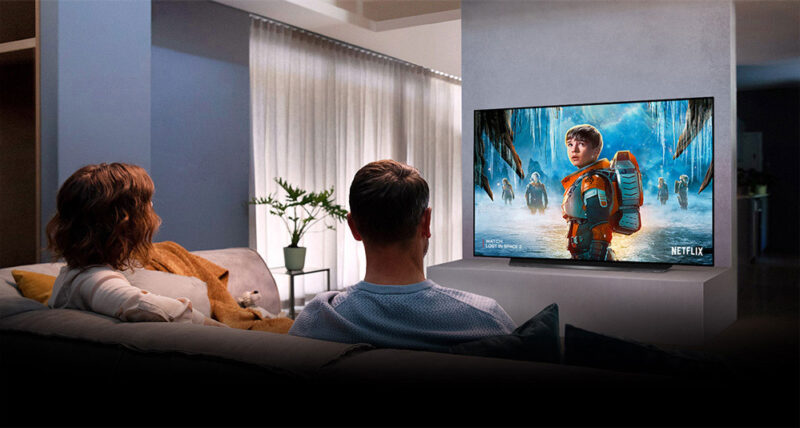 65-inch LG TV. Image credit: LG
Acoustics
Regardless of your budget, one of the first considerations when planning a home theater is to assess the room itself. What is the shape of the room? Square rooms tend to distort sound. If your living room is more of a rectangle, place your screen and main speakers along the short wall for best sound projection. If you have framed wall art behind glass, they'll reflect both sound and light – not ideal for replicating a movie theater. Finally, flooring with carpet provides the best acoustics by eliminating unwanted reverberation.

Lighting
Nothing diminishes the theater experience like harsh light coming through windows and doorways. Today's open concept does a lot for family togetherness but little for a theater-like experience. If you watch most of your movies after dark, you're golden. If not, consider blackout curtains or blinds on windows. Die-hard enthusiasts may even consider drapes to cover doorways, which will also contribute to better acoustics. Lastly, bright wall paint will reflect light so paint your walls as dark as you can using eggshell or flat paint.

Screen
Bigger is not always better. You want an immersive experience, but who wants to constantly swing their head from side to side in an effort to take in all the action? It's recommended for minimal, comfortable eye movement, to set your viewing angle to 1.5 to 2.5 times the diagonal width of your screen. That means for a 60-inch-wide television you should sit no closer than 7.5 feet and no further than 12.5 feet. A viewing distance calculator can help you figure out what's best for your setup.
The best height is having the center of the screen at eye level. Sometimes the screen is forcibly higher than eye-level since it's located above a mantle or fireplace. Tilting the screen downward can help remedy this issue. Check out Sonos' tilting TV wall mount. It'll hold TVs up to ninety inches!

Sound
Second only to the screen is your sound system. Most home theater speaker systems (and movie soundtracks) are designed to provide specific sounds from various areas of your listening environment. A typical home theater features 5.1 surround sound, meaning there are five full-range speakers and one low-range specialist, the woofer. A receiver (also called an amp) connects all the speakers.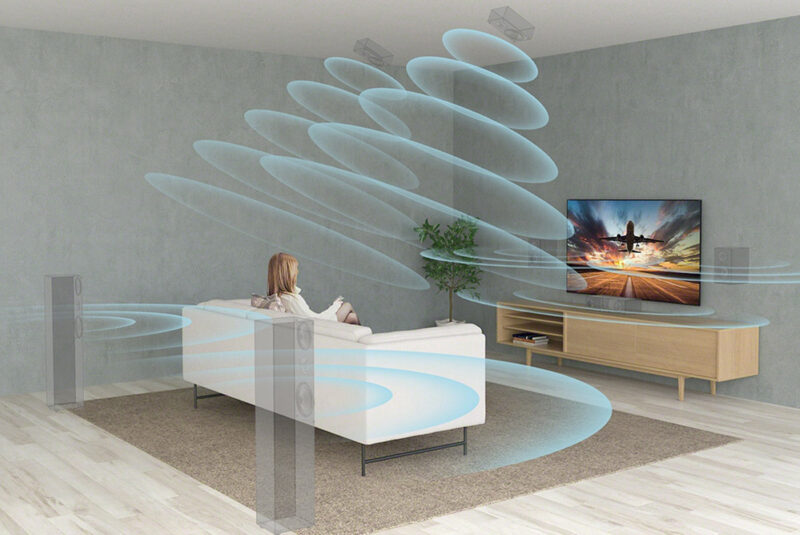 Ceiling-mounted front speaker setups are fancy, but floor speakers are just as good from a sound quality perspective. Image credit: Sony
You'll place three speakers and the woofer in the front of the room, and the two remaining speakers on either side and slightly behind your viewing position. Keep speakers at least 20 inches from walls - again, to eliminate unwanted reverberation. Your seating should place you equally distanced from each speaker.
The "center" speaker is normally used for voice dialogue. No more straining to understand what characters are saying past all the background noise!
Budget Home Theater Solutions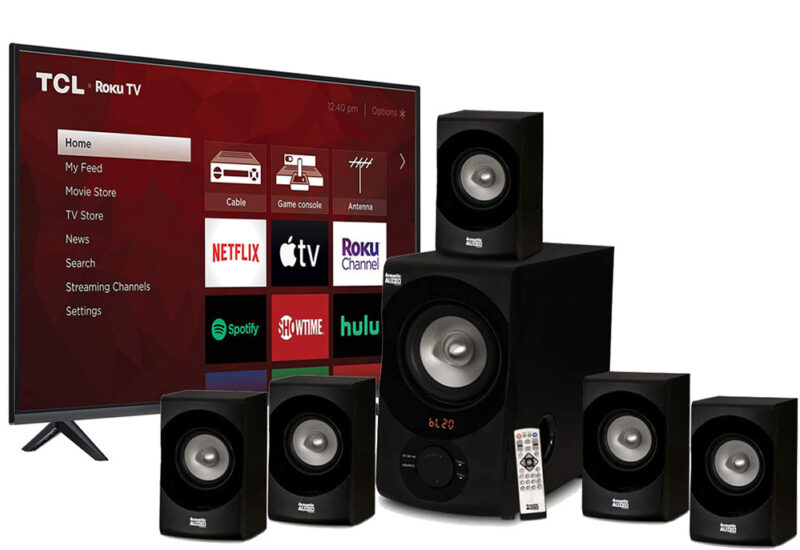 A budget home theater setup may run you about $1,000.

A system for a small living room might consist of a smaller screen (32 to 43 inches) combined with a soundbar. You should budget up to $1,000. If you are using an existing television, and only purchasing a home-theater-in-a-box or soundbar system, budget about $500. For those looking to spend as little as possible, Lifewire recommends these:

Top of the Line Home Theater Solutions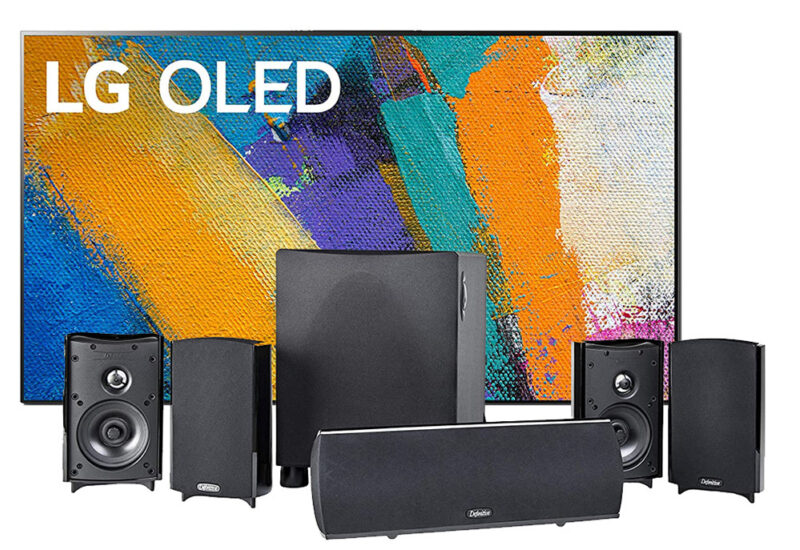 A large 4K OLED TV and high-end speakers may run between $5,000 and $10,000. The sky's the limit.
If you go for a high-end 4K Ultra HD (65-inches or larger) OLED TV, with a home theater receiver and speakers, budget $5,000-$10,000 for a complete setup. You'll also need cables, a cabinet, and other peripherals. Some of the most popular home theater products, listed by Lifewire, include:

Ready for your own space to enjoy movie night?
You can still enjoy a movie night in an apartment – but you can't go all out. When you buy your own home, you're free to paint the walls a darker color to absorb light, crank the sound on Michael Bay movies, and have as many people over as you want.
Get started on your free pre-approval with the mortgage lender Texans trust!