Article Excerpt
Does a beautiful front yard require sweat, blood, and tears? Not with these low-maintenance grasses, trees, and flowers!
If you want an attractive yard but aren't looking to spend a lot of time maintaining it, it's important to select landscaping suited to your environment so the plants will thrive with minimal intervention. Though there are many options when it comes to front yard design, the following three elements are most common.
Header Image credit: Botanical Concerns LLC
Sod
Most new home builders will sod your yard as part of the overall building project. If you need grass, select a species that is adapted to the climate to reduce the need for watering. Additionally, healthy grass is the best defense against weeds.
According to Texas A&M AgriLife Extension, the following grass species are some of the most common to Texas.
Bermudagrass
This species is grown throughout Texas. It is very tolerant of drought and traffic and requires full sunlight. It is also a warm-season grass, meaning it will turn straw-colored at the first frost.
Buffalograss
Best adapted for areas with an annual rainfall of 25 inches or less. It does best in full sun and has little tolerance of shade. Buffalograss does well as a low-maintenance lawn grass from Central to West Texas.
Centipedegrass
This low-maintenance lawn grass is best suited for East Texas. It is slow-growing and grows well in full sun to light shade and does not tolerate traffic or prolonged drought. It requires little fertilizer and infrequent mowing.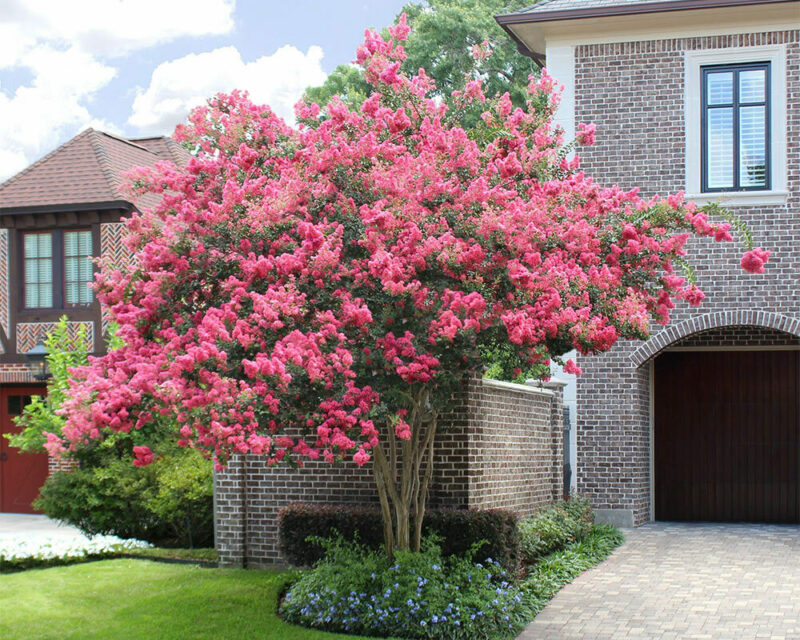 Trees
Trees increase your home's value, provide privacy and shade, reduce noise, and enhance the overall beauty of your home. Before selecting a tree, consider whether you want it for shade or ornamental purposes only? How fast will it grow and how big will it get? Should it remain green even during winter? Is it suited for the area of Texas you live in? Many landscaping professionals recommend the following trees.
Live Oak
This popular evergreen tree has a wide-spreading canopy that provides shade and privacy. They are also very drought tolerant once established and require minimal care.
Crape Myrtle
If you prefer a fast-growing tree with beautiful blooms, crape myrtle is a good choice. They are a popular Texas tree because they enjoy full sun and require moderate water and little maintenance. However, they are not evergreen.
Carolina Cherry
Another popular, low-maintenance evergreen is the Carolina Cherry. It makes an outstanding privacy screen due to its dense, compact growth. You can line them up along a fence to build a natural wall or along a property line for increased privacy. Everyone loves their near-perfect shape and low maintenance requirements.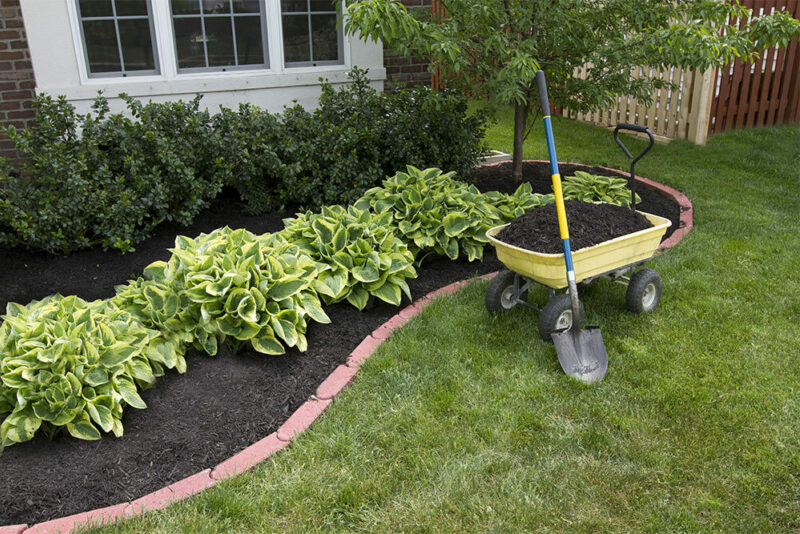 Flower beds
Adding shrubs and ornamental plants will take your front yard to the next level, but make sure the plants accent your home, not take away from it. Shrubs form the backdrop for the rest of your landscape. For a pop of color, add annual flowers, like petunias or the hardy Lantana. Well-defined borders and mulch are key elements of an attractive flower bed.
Boxwood
This slow-growing evergreen shrub adapts easily to a variety of conditions in either sun or part shade. Because it is slow-growing, it only requires trimming a few times each year.
Big Blue LilyTurf Plant
This clumping, evergreen perennial has tufts of grass-like, green leaves from which small spikes of purplish-blue flowers shoot up in late summer. Extremely hardy plant for use as an edging, as a groundcover, or as an accent.
Lantana
Lantana is a popular summer annual in Texas. They have bright beautiful flowers and are often used as a border shrub. Lantana will bloom year-round in warm climates but will die back to the ground after a freeze, coming back in the spring.
---
Landscaping isn't as difficult as you would think, but it requires patience. At any step in your decision-making, don't hesitate to ask for expert advice from landscaping professionals. If you prefer to pay someone to get your front yard established, HomeAdvisor estimates the cost, on average, to be about $1,500 to $5,000 depending on size.