Article Excerpt
How do you stand out in a crowded homebuying market? By checking these boxes, you'll have the best shot at winning the deal!
Some Texas markets are super competitive. In Austin, the average amount of time that a house stays on the market is only 29 days! That includes "pending" times. With one hundred people moving to the area each day and a high investor interest, homes are being scooped up quickly.
But by making sure these essential pieces are in place, you can stand out as the best choice for a seller. Let's take a look.

Get pre-approved
You've heard it before, but we're saying it again. Your very first step to making the strongest home offer is to get pre-approved! Without a pre-approval from your mortgage lender, your sellers will feel like your offer is only a guessing game.
It could fall through at any point, and then they'd miss out on real offers with pre-approvals behind them. It happens more often than you'd think, and sellers are willing to take the risk.

Start on your free pre-approval in just 90 seconds.
Start Now
Promise a speedy closing
Sellers are looking for the easiest possible process in selling their home. If you can make a commitment to close on your loan faster than the competition, you're already one big step ahead.
In 2019, the average time to close a loan was 47 days from start to finish. The Wood Group of Fairway Mortgage actually allows you to close in as fast as 15 days with the Power Buyer Program! It's eligible to all borrowers using a qualifying mortgage program, and we'll even provide a nice letter to present to your seller that explains the advantage you have as a Power Buyer.
Write a letter
Many homebuyers send the seller a letter explaining why their home would make a great fit for their family. Homeowners harbor a lot of emotion in their homes - it's where they raised their kids, shared meals, and grew up together. So if you can tug at their heartstrings a bit, it may move your offer to the top of the stack.
Check out this well-crafted example of a buyer's letter. Ask your loan officer or real estate agent if you want advice or help writing one!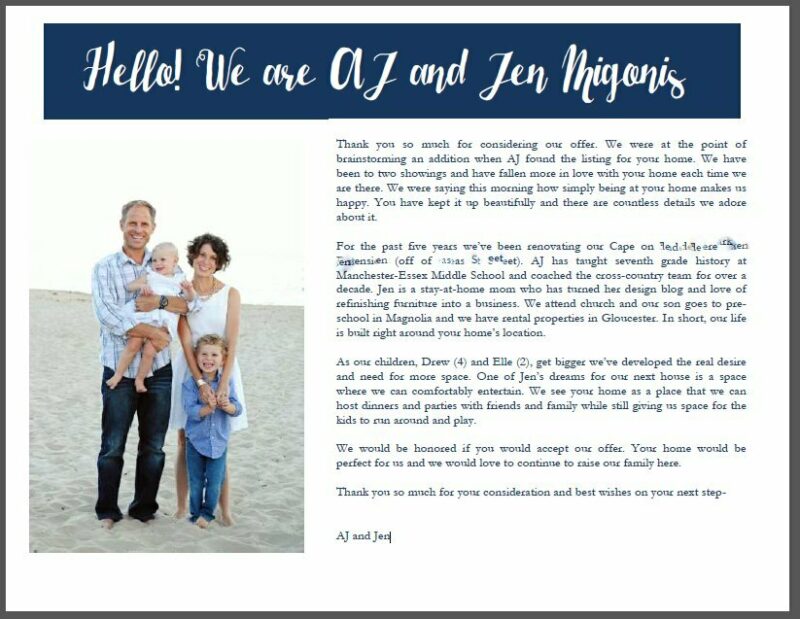 Set new home alerts
One of the most important factors in winning a deal in a competitive market is your speed to make the first offer. After you're pre-approved and you've decided on what's most important in your future home, set up email alerts for new homes that just hit the market.
You can proactively do this on your own with free-to-use listing sites like Zillow. First, define your criteria. For example: single-story, between $299,000 and $350,000, has a garage, no townhomes, or condos. You'll receive an email as soon as a new home matching these criteria hits the market.
Ask your realtor to set up a similar alert system within the multiple listing service (MLS) as well. Although free sites like Zillow and Redfin are useful, the MLS will often show new homes a day or two before they hit other sites.

Limit contingencies & outbid competitors (carefully!)
Contingencies are basically conditions (outside of the purchase price) that must be met before you'll buy the home. For example, a buyer may say they won't complete the transaction until they feel good about a home inspection's results. That's a normal contingency that won't cost you the deal. You'll want to avoid tacking on nickel-and-dime contingencies that other buyers aren't amending to their offers.
Now, making a higher offer is obviously one of the strongest ways to win a deal. But one specific strategy is to offer to beat the highest bidder by $1,000 all the way up to a certain amount. You probably won't want to inform the sellers on what your limit is (or that you even have one), but it shows you're serious and willing to do what it takes to make the home yours.
Your real estate agent may have an inside scoop on the sellers, and may offer specific strategies to outbid your competitors. This is just another reason why it's so important to trust the team of people guiding you to homeownership!

Get started today!
Your first step to making an offer is by getting pre-approved. Get started with the lender that so many Texans trust to carry them to the finish line. We're happy to answer all of your questions, no matter how small.