Article Excerpt
Texas boasts some of the most luxurious homes in the nation, many of which are available for purchase. Take a look at a few of your options!
Homes can be as unique as their owners, especially when the owner's resources seem unlimited. For the majority, personalized finishes such as countertops, hardware, paint color, etc. satisfy the creative need, but there are a few Texans who have built and furnished amazingly luxurious homes. Many of the homes listed below are currently for sale!

Your Own Personal Waterpark
Have you been thinking about a home with a pool? Consider a home like this one in Dallas that has its own private water park complete with water slides, lazy rivers, and a second-floor hot tub. When you're finished splashing around, enjoy a movie in one of its two movie theaters, or take advantage of its two basketball courts, tennis court, gymnasium, or bowling alley.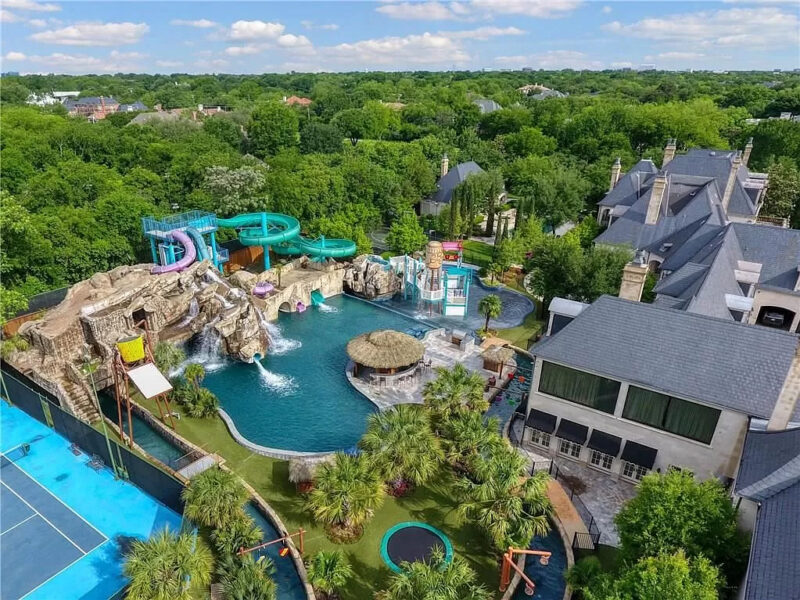 A Palace on Buckingham Drive
Live like royalty in this neoclassical residence that features platinum and gold-plated door handles. Located in Houston, the home also has hand-selected de-Gournay wall coverings, Carrara marble floors, soaring ceilings, with light-filled interior vistas. Your butler will approve.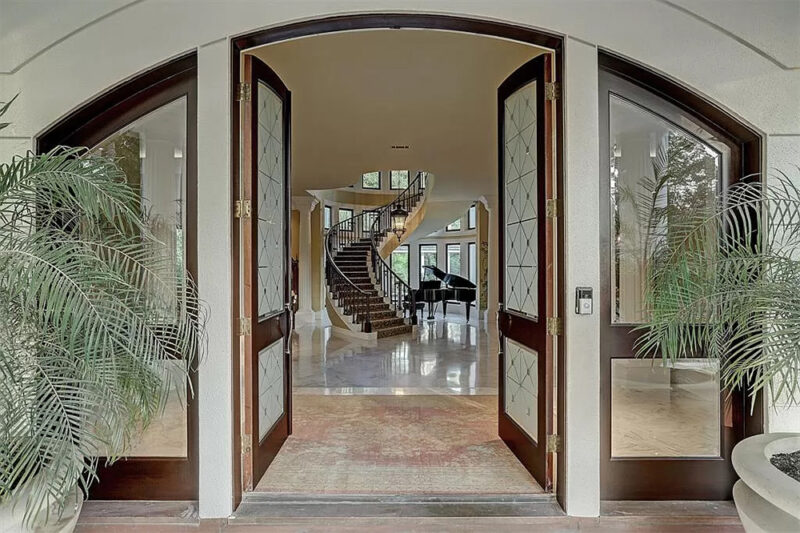 Bird Dogs Included
One of the nation's largest (and most expensive) ranch properties, Mesa Vista Ranch, is a sprawling 65,000-acre ranch located 85 miles from Amarillo. Its former owner, financier T. Boone Pickens, spent 50 years transforming the land into the playground it is today.
The compound includes a 33,000 square-foot main home and an 11,500-square-foot lake home. Amenities include a two-story pub, a freestanding gun room, a large dog kennel and a veterinary lab, an airport hangar and runway, and even a chapel. The architect, Tommy Ford, estimates that the total volume of building materials, landscaping rocks, trees, and other enhancements delivered to the ranch would exceed 120 trains, with each train containing 110 cars of materials.
The listing includes all Picken's pickup trucks, hunting vehicles, farming equipment and furnishings – and even his bird dogs. The estate's current staff is also interested in staying. All of this can be yours for $220 million. His cows and artwork are being sold separately.

Pouvez-vous parler français?
Would you like to immerse yourself in beauty reminiscent of Versailles, France without leaving Texas? Take a short, seven-minute drive from downtown Houston to Chateau Carnarvon and you'll experience a surprisingly secluded, and elegant estate with Versailles-like grandeur. Chateau Carnarvon is a luxurious 27,000-square-foot mansion that holds the record for Houston's most expensive residential listing and is currently listed at $30 million.
One of its most unique features is the 33-foot-tall domed ceiling that provides sweeping vistas through marble colonnades, and floors inlaid with precious stones. The library's wood paneling was taken from the old Warwick Hotel built by William Randolph Hearst in New York City. Imported European elements and hand-painted artwork is located throughout.
Outside, the varied and beautiful gardens are dotted with century-old, imported Olive Trees. The estate also houses a sizable art collection and several museum-quality tapestries.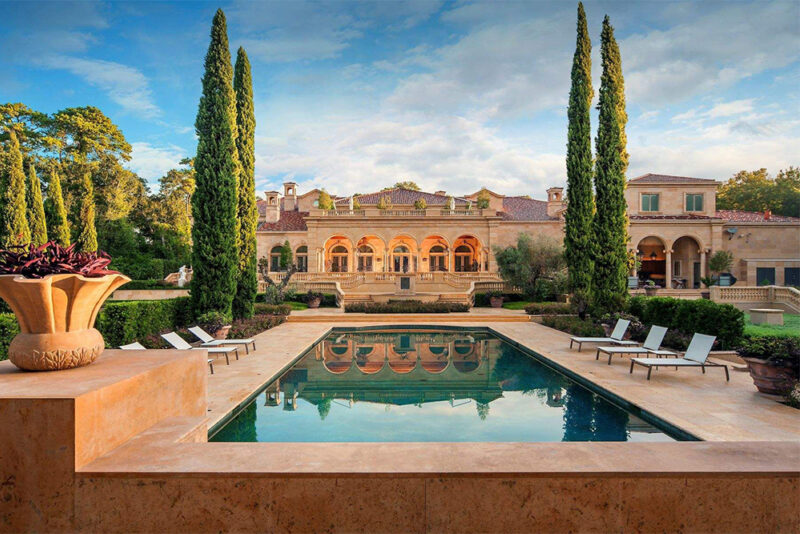 The Best Sunset in Texas
Every year, thousands of people flock to "The Sunset Capital of Texas" located on the shores of Lake Travis, just outside of Austin. For most, enjoying the beautiful vista is a one-time occurrence. But for the owner of this palatial lakeside home, beautiful sunsets are included with the purchase.
The 18,000-square-foot villa, situated on 13 acres, is designed to capture the sunset from any of its multiple balconies. It also provides deep-water access to the lake.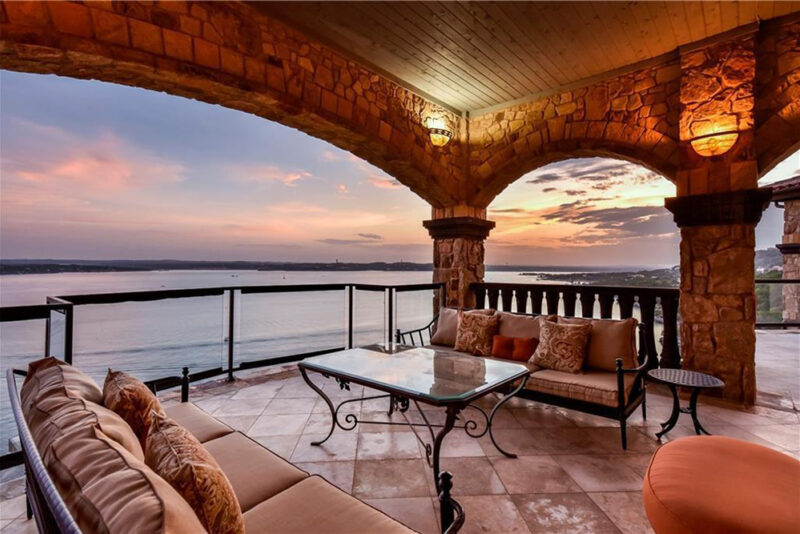 High Style Meets High Tech
Built-in intelligence and automation are becoming expected features in new homes, and River Oaks Palace Mansion in Houston hits the mark with a high-end Crestron automation system that controls the home's Lutron-based lighting systems, a distributed multi-zone audio system including three Sirius satellite tuners, all automated window shades, exterior gates, irrigation system, mosquito control system, security system, and multiple HVAC zones.

Not interested in technology? Then perhaps the home's exquisitely ornate 17th-century Parisian look will impress you.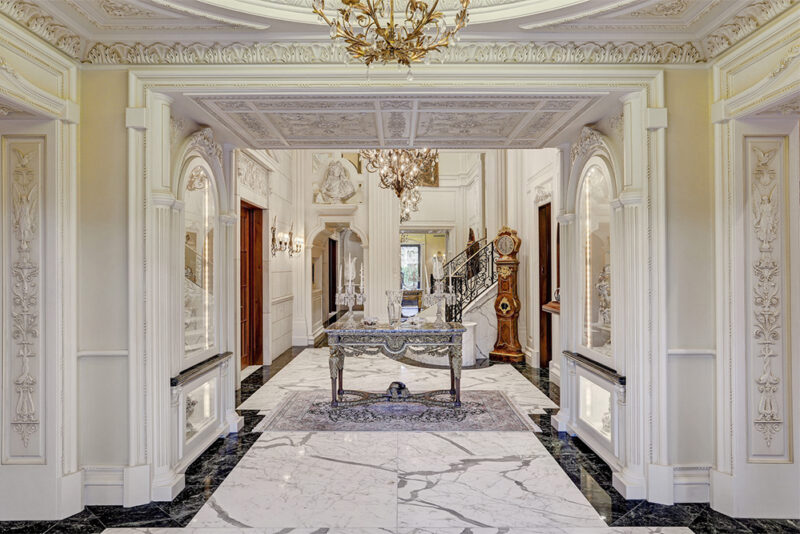 No Artwork Needed
Imagine every room in your home with floor to ceiling windows that offer stunning 360-degree views of Austin and Lady Bird Lake. The Four Seasons, 30th Floor Penthouse is 13,000 square feet of luxury that includes a guest suite with its own full kitchen, dining room, living room, den, bedroom, bathroom, and large walk-in closet. Imagine enjoying every sunrise from the comfort of your bed, or every sunset with a glass of wine from your 500-bottle wine cellar. Even your dog will be happy; the penthouse includes dog-friendly charcoal filtered turf on the balcony.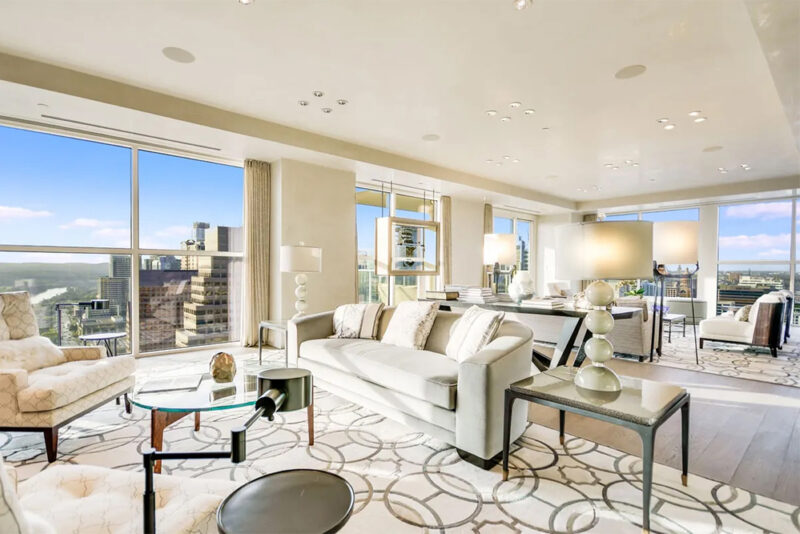 Enjoy city life without sacrificing space or beautiful views. This huge Austin penthouse is currently available. See more of this property.
An Unexpected Room
A tour of "La Perse", a 20,000 square-foot estate in Houston, reveals an unexpected experience as you step into its "Middle Eastern Tea Room". The highly ornate room brings "a little Eastern style and flair to Texas". It features beautiful, hand-painted tiles that depict scenes from the Persian Book of Kings. The entire home is inspiring with grand rooms that demonstrate classic 18th-century styling.

Jumbo Loans for Jumbo Homes
If you're in the market for purchasing a home with a loan in excess of $548,250, a jumbo loan may be your best mortgage option.

The Wood Group of Fairway is equipped with the experience needed to help you to the closing table. Get started on your free pre-approval today!