Article Excerpt
Learn about the forbearance extension, facts and figures surrounding COVID-19 and homeownership, and simplified explanations of what it all means.
Last Tuesday, February 16, 2021, the White House announced mortgage "forbearance and foreclosure protections" for homeowners. These options were set to expire in March of 2021, but have now been extended through June 30, 2021.
The Consumer Financial Protection Bureau updated their mortgage relief information on the same day the White House announced forbearance extensions. Key points include:
If your loan is backed by HUD/FHA, USDA, or VA:
You cannot be foreclosed on until after June 30, 2021.
The deadline for requesting an initial forbearance also lies on June 30, 2021.
You may request up to two additional three-month forbearance extensions, up to a maximum of 18 months of total forbearance.
If your loan is backed by Fannie Mae or Freddie Mac:
You cannot be foreclosed on until after March 31, 2021.
You may request a 180-day extension to your forbearance period.
What does mortgage forbearance do?
When you forbear a mortgage, monthly payments are paused. At the end of the forbearance period, your missed payments will be due. Whether it's due all at once or spread out over a period of time may vary by lender. Many homeowners in forbearance will owe their skipped payments all at once.
Forbearance is not "forgiveness". That's the one key thing to know.

Should you take the forbearance option on your mortgage?
If you have been impacted by COVID-19 in a way that hinders your ability to pay your mortgage, you're not alone. Forbearance might be your best option. Requesting forbearance will not hurt your credit score. Call your mortgage servicer to explore your options.
If your mortgage is serviced by Fairway Independent Mortgage Corporation, visit MyFairwayServicing.com's Financial Assistance webpage for contact information.
COVID-19's Impact: Facts and Figures
From the Center on Budget and Policy Priorities' study "Tracking the COVID-19 Recession's Effects on Food, Housing, and Employment Hardships":

1 in 5 adult renters are behind on rent (data from Jan 20 to Feb 1, 2021)
1 in 3 adults is having difficulty covering usual household expenses. In Texas, it's closer to 42%.
23% of Texas adults living with children report that "the children were not eating enough because we just couldn't afford enough food."
Download a printable PDF version here.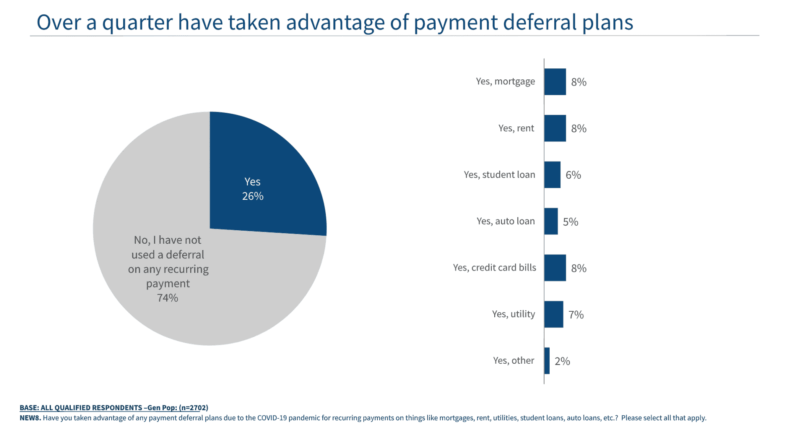 Who's paying for properties in forbearance?
While forbearance is extended and foreclosures are not allowed, it begs the question: who's paying for the properties?
According to the Federal Housing Finance Agency, "While a property is in forbearance, the landlord must suspend all evictions for tenants unable to pay rent." It's important to understand that landlords are often still paying mortgages on their properties. If their tenants aren't paying, the landlord may take forbearance. Then, the real estate investors behind the landlord's loan aren't getting paid. When payments are made, someone has to be the loser.
Every situation is different. Some investors may take the hit without sacrificing much. Other investors will declare bankruptcy. Just under half of all rental US rental units are owned by small individual investors called "mom-and-pop" landlords.
Example scenario: the landlord's point of view
Let's say you're a small real estate investor. You bought two properties valued at $200,000 each - neither one has a loan attached to it. You've worked to save six months'-worth of rent in a reserve fund in case of periods of vacancy, missed payments, and repairs. That would be considered a very healthy safety net.
If your renters haven't made payments since March 2020 and you're not legally allowed to evict them until June 30, 2021 (as is the case in California), you won't receive any rental income for fifteen months. Additional future extensions for renters could drive you even further into the red.
The rental income you're missing may have normally gone to your own personal mortgage, your children's college funds, or just to discretionary spending. Those expenses are no longer accounted for, and even as a real estate investor, you may have to take a loan for yourself. You may not spend as freely as you once did - and local small businesses feel that the most.
The economic impact of skipping payments for housing for up to 18 months is very large. The larger the losses become for property owners, the more likely they are to let them go.
Check out this video from John Williams, a young real estate investor in California. He outlines an example scenario about how reduced rent affects landlords.
… But it's not all bad
There's no doubt that COVID-19 has created problems for not just some homeowners, but for everyone. Daily life is different. But mortgage interest rates are still low and there are still properties for sale all across Texas. If your income feels secure, now is a great time to buy a home.