Article Excerpt
Last week's mortgage rates hit the lowest point since they've been tracked. How should prospective homebuyers respond, and what's next for rates?
Last week, the average 30-year fixed rate dropped to its lowest level in recorded history. Average rates have been tracked since 1971, ranging from a stratospheric 17.6% in February of 1982, all the way till late May of 2020 at 3.15%. Those are the lowest rates we've seen in fifty years. On June 4, Freddie Mac updated the average 30-year fixed to 3.18%.
For further comparison, June 2019's 30-year fixed-rate landed at 3.82, and in June of 2018, rates were up to 4.54.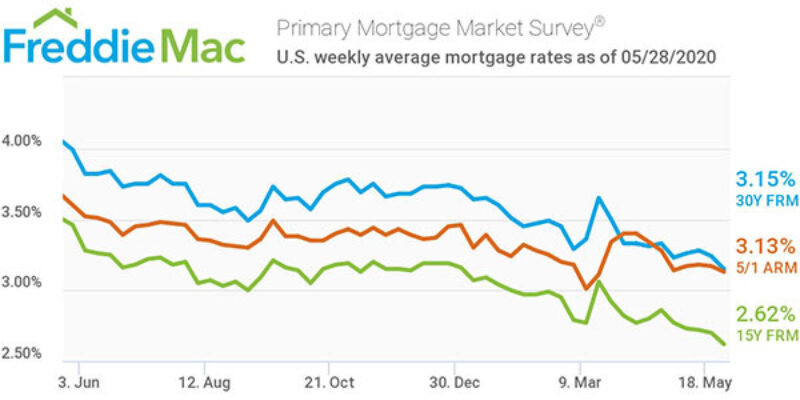 Now keep in mind that in addition to rates fluctuating daily, your interest rate will depend heavily on your profile as a borrower. Credit score, down payment ability, and debt-to-income ratio are still important factors. But one thing's for sure: as far as interest rates go, there has literally never been a better time to buy a house.
Download Freddie Mac's continually-updating spreadsheet containing interest rate data on 30- and 15-year fixed-rate mortgages, and adjustable rate mortgages.
Monthly payment scenarios: then and now
A couple summers ago, a homebuyer with healthy credentials could have expected a 30-year fixed rate of 4.54%. For a $200,000 loan, that would have landed their monthly payment around $1,615. Their total interest paid would have rung up to over $166,000 over the life of their loan.
But now, with an interest rate in the low 3's, that same $200,000 would put monthly payments around $1,484. Total interest paid over the loan's lifetime would come in at $109,410. That's $131 saved monthly and $56,590 saved in interest over the life of the loan!
And just for fun, let's see how much you would have paid on a mortgage in February of 1982 when rates were at an abysmal 17.6%. On a $200,000 loan, your monthly payments would have stretched to $3,574! When the payments finally stop, the interest alone would have piled up to $861,617. Crazy.
Where are rates headed next?
We've seen three record lows for mortgage interest rates during the last few months. And with the coronavirus still keeping consumer confidence down, some experts think they could drop again.
Federal Reserve Chairman Jerome Powell recently expressed concerns of the possibility of a new wave of coronavirus infections on the heels of re-opening efforts across the country. "A full recovery of the economy will really depend on people being confident that it's safe to go out," says Powell. "A second wave would really undermine public confidence, and might make for a significantly longer recovery, and weaker recovery."
Peter Miller, author of The Common Sense Mortgage, points out that "...more than 36 million people became jobless in just the past two months because of the COVID-19 pandemic," and reasons that "Reduced job totals and less spending mean less demand, with fewer people able to qualify for mortgage financing."
With less confidence in job security and a giant unemployment spike, tumbling interest rates are meant to encourage homebuyers to pull the trigger on a purchase.
While no one has a crystal ball, signs point to yet another possible low point for rates. But if you're in a position to buy a home now, you should get pre-approved ASAP.
But when interest rates drop below what you originally locked with during your purchase, you may have an opportunity to save thousands. With rates as low as they are now, it's certainly worth running through a refinance scenario to find out if it's right for you.
See what rate you qualify for today!
In our current volatile market, it's wise to lock in your rate while they're low. While they could drop further, there's certainly no guarantee. Take advantage of the lowest rates we've seen in nearly fifty years.
We welcome home more than 200 families every month! Start a free pre-approval today with no strings attached.